Graduate Alumna Focus | Stephanie Santineli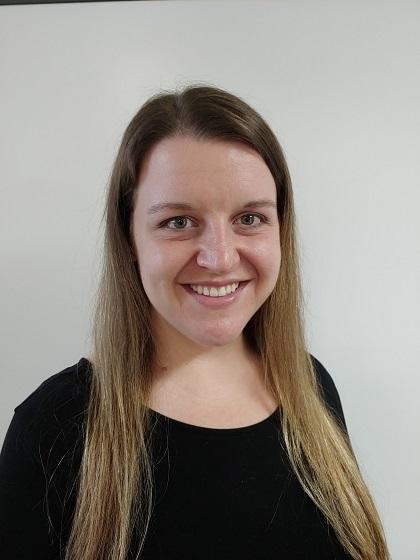 "My master's degree allowed me to serve as a mentor to undergraduate teacher interns, provide valuable feedback to colleagues about effective instructional strategies, and ultimately led to the transition into my current position as a reading interventionist."
Stephanie Santineli, Reading Specialization M.S.
Graduation Year
Program
Reading Specialization (M.S.)
Department
Hood College alumna Stephanie Santineli earned her master's degree in Reading Specialization in May 2020.  She was named teacher of the year in 2019, and is currently working at Hillcrest Elementary as a reading interventionist.
Please tell us about your background. 
I grew up in Washington County and have lived in Maryland my entire life. I moved to Frederick in 2008 to attend Hood College as an undergraduate student. I received my Bachelor in Elementary and Special Education in 2012 through the dual certification program at Hood.
In 2013, I was hired to teach first grade at North Frederick Elementary School in Frederick County. The following year I transitioned into a second-grade position at Hillcrest Elementary.
At Hillcrest, we use a departmentalized model, so I taught all of the English Language Arts components for two second-grade classes, and remained in that position for five years.
In 2019, I took on the role of reading interventionist at the primary level and this is my second year in that position.
What made you choose Hood Graduate school the Reading Specialization program in particular?
I chose Hood Graduate School because of its positive reputation in Frederick County for preparing teachers desiring to become literacy specialists.
I have always had a passion for reading instruction, and my ability to focus on this content at Hillcrest fueled my desire to pursue the Reading Specialization program at Hood.
Several of my colleagues spoke highly of their own experiences in the program and, after exploring the program outline, I felt it was the best fit.
How has your graduate degree helped further your career and/or your life?
I noticed an improvement in the quality of my teaching almost immediately after entering the program at Hood! Every class pushed me further in my understanding of literacy instruction as both a general educator and a literacy leader.
My master's degree allowed me to serve as a mentor to undergraduate teacher interns, provide valuable feedback to colleagues about effective instructional strategies, and ultimately led to the transition into my current position as a reading interventionist.
What did you enjoy about Hood College? Do you have a favorite memory?
There were so many things I enjoyed about Hood College! I appreciated how personable the professors and staff were because they always made my learning experiences engaging and inviting.
The community at Hood made my experience with the other students in my cohort feel like we were part of a family and that we were all in the journey together.
Participating in the reading clinic in the summer semester of 2019 was the most memorable experience from my time in the graduate program. The clinical experience was intense, fast paced, and required countless hours of dedication.
Despite the heavy workload, my experiences in clinic taught me an incredible amount about what it takes to be a diagnostic reading instructor.
I valued the ability to work closely with my peers and mentors to develop meaningful lesson plans, and enjoyed the time I spent with students of different ages throughout Frederick County.
How has teaching in reading intervention been a challenge during COVID-19 times?  
There have been many challenges with teaching within reading intervention during COVID. My position targets first grade students, and one of the initial tasks as a reading interventionist is collecting reading data that is as accurate as possible in order to properly identify students with the highest needs.
The assessment tool I used was available on a digital platform, but the process took far longer to complete over a video call than it would face-to-face in the classroom.
Using a GoogleMeet call to collect data is also difficult because there is no guarantee that the student is hearing the instructions clearly, or that the audio quality is consistent enough to represent the student's true reading proficiency.
Developing intervention plans for students was difficult as well because of the limited materials at our disposal. In a face-to-face setting, I would use a variety of resources that are not accessible on a digital platform.
The pacing of lessons has also been challenging because, as interventions may require a pre-determined amount of time, it is imperative that classroom teachers are in sync with my schedule so that we can transition students into breakout rooms to receive small group, targeted instruction.
I have needed all of the tools acquired at Hood in my teacher's toolbox to help my students be successful during this time!
Is there any other personal information, outside interests, or interesting facts that you would like to add?
While enrolled in the Reading Specialization Program, I was juggling my full-time teaching position as well as two part-time jobs, yet I was named Hillcrest's teacher of the year in 2019.
I consider this as evidence that the program is manageable even if you have many responsibilities in your life. I would encourage anyone considering a graduate degree to go for it, you can absolutely do it and the graduate school staff will support you!
Inspired by Stephanie's journey to #GOFURTHER in your education and career? Click here to learn more about Hood's graduate programs including the Reading Specialization Master's program.
Are you ready to say Hello?
Choose a Pathway
Information will vary based on program level. Select a path to find the information you're looking for!