Graduate Student Spotlight | Zachary Klug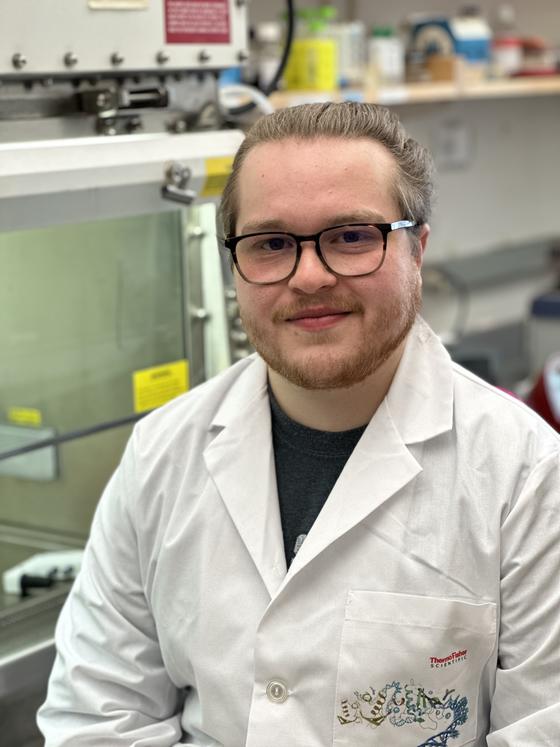 "This is a great area for the sciences due to the number of labs around, and they're happy to work with Hood College students. Look around for opportunities, make connections in and out of the College, and take work opportunities when they come up."
Zachary Klug, M.S. Biomedical Science
Program
Biomedical Science (M.S.)
4PLUS Biology (B.A.)/Biomedical Science (M.S.) Program
Department
Zachary Klug is a current student in Hood College's M.S. in biomedical science program. Before joining the Graduate School, Klug was an undergraduate student at Hood, where he majored in biochemistry and was member of the 4PLUS Program. Klug is currently working on his thesis on primary cilia, the antenna-like structures on cells that are used for signaling.
Briefly describe your education and career background.
For my undergraduate studies, I majored in biochemistry at Hood College. I minored in physics as well. I enrolled in the 4PLUS Program and got involved in the biomedical science program at the Graduate School. During that time, I got accepted as a teaching assistant. I hope to graduate in the summer of 2024.
What got you interested in the fields of biomedical science and biochemistry?
Initially, when I came to the College, I had no idea of what to do with my career. I started liking labs and research environments as I got involved with them more. I found out I had a passion for it, and as I progressed with my studies, opportunities came to me. When I started the 4PLUS Program, I got that teaching assistant position from the biology department head.
What did you do for your summer research?
Our primary focus is studying primary cilia—they are antenna-like structures on cells that are used for signaling. We're studying cell culture and polymerase chain reaction (PCR), which is a technique to make many copies of a specific DNA region in vitro. We might do a depreciation essay. I have worked lots of days and nights in the Hodson Science and Technology Center, as this ties into my graduate thesis.
How long have you been working on your thesis? What is it about?
I've been working on my thesis for six months. It is about primary cilia. My goal is to have it completed and ready by June or July 2024.
Initially, I met with her in my undergrad studies. I took her cell biology class during that time. She was friends with Professor Dana Lawrence, whom I worked with in my undergraduate classes to study protein solubility enhancement.
The idea is that there are proteins in cell membranes that are not soluble because they are used to being surrounded by fats. Purifying them requires them to be in something water based. Making them more water like would make them become more willing to interact with water, and from there, become more soluble.
I had already been in talks with Professor Liu for my original, scrapped thesis concept. She offered to me that, if my original idea didn't work out, I could work with her on the primary cilia research.
Do you have any advice for students interested in the fields you work in?
If you want to do it, do it here in Frederick. This is a great area for the sciences due to the number of labs around, and they're happy to work with Hood College students. Look around for opportunities, make connections in and out of the College, and take work opportunities when they come up. They're happy to have people on board.
Are there any fun facts or trivia that you would like to share about yourself?
I worked at Sam's Club to help pay for my undergraduate education. I also volunteer with Bussings for Backpacks, which provides low-income students with snacks and other food.
Inspired by Zachary's studies and research? Ready to #GOFURTHER in your career? Learn more about Hood College's graduate programs, such as biomedical science, by clicking here.
Are you ready to say Hello?
Choose a Pathway
Information will vary based on program level. Select a path to find the information you're looking for!