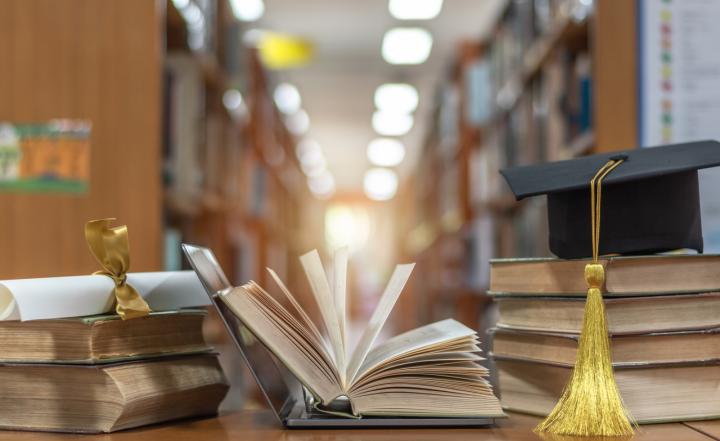 Graduate & International Students
Catherine Filene Shouse Center for Career Development and Experiential Education
Welcome to Hood College's graduate programs! This page and the links provided are to help you access the resources available to you from the college's Catherine Filene Shouse Center for Career Development and Experiential Education.
All services and programs of the Career Center are accessible to you at no charge. Services commonly used by graduate students include resume and cover letter writing and editing, career navigation and job search, interview preparation, and networking events. The Center hosts a series of career events each year. Highlights include a fall Science & Technology Fair and etiquette dinner, a spring Career Fair, and a Federal & State Agencies Fair.     
All graduate students are encouraged to follow the Career Center on LinkedIn, to become part of the college's alumni networking social media platform Alumnifire, and to utilize Handshake to make an appointment with a counselor in the Career Center or to view jobs and register for workshops and upcoming events.
As an international student, you may also face special challenges in getting internships and jobs in the U.S. Complex and changing immigration regulations, a lack of clear information about which employers hire international students, and cultural differences will require you to spend additional time and effort to learn about employment policies and practices that may affect you. Two articles, Job Tips for International Students and How to Land a Job in the U.S. (as a Foreigner), offer useful advice. This article from a Georgetown University alumni, on overcoming barriers to international employment, might also be helpful.
You may have concerns about whether employers in the U.S. will hire international students. Online research and networking conversations can help you identify organizations that have hired international workers in the past. As you conduct online research to learn more, consider the following resources.
Top 200 Employers
The Student and Exchange Visitor Program (SEVP) at the U.S. Department of Homeland Security captures data from SEVP-certified schools and active international students to create lists of the top 200 employers who hired pre- and post-completion OPT students (PDF), STEM OPT students (PDF), and CPT students in 2019.
My Visa Jobs identifies employment opportunities for foreign nationals who want to live and work in the U.S. and Canada. Search annually updated lists of employers accepting H-1B visa holders. Sort lists by state, industry, or job title. This site also contains information about work authorizations and information about a variety of industries.
Online, interactive database that allows international students to directly connect with the top sponsor companies. Includes a networking kit that provides links to job search engines and job sites specifically designed for international students. Free company resources are accessible and students may choose to upgrade their accounts for more advanced services.
Job seekers can use the Immihelp searchable database to seek out employers who have historically sponsored international candidates. Locate databases under the "Tools."
For International Jobs and Internships (not limited to the U.S.), check out iHipo.
E-Verify is an online program run by the U.S. government that is used mostly by employers to check employee records and eligibility. Search for employers that provide work authorization and sponsorship for OPT.
This is a job search tool offered by the Hood Career Center. See instructions on the homepage of this site to join as a member and begin searching for CPT and OPT opportunities.
Can employers limit their interviewing and hiring to U.S. citizens?
Sometimes, if citizenship is deemed to be an essential part of the position. The National Association of Colleges and Employers has some helpful information on this topic.
Should I list my immigration status on my resume?
You do not need to list your immigration status on your resume. Your educational background and work history will display that you are an international student. You should never lie about your immigration status, but are not required to disclose it on your resume.
When in the hiring process do I reveal that I'm an international student?
Some employers adhere to strict policies against hiring foreign nationals. Others may prefer to hire U.S. citizens but can be convinced otherwise. It is usually recommended that students wait until an employer asks, but be aware of whether the company has petitioned for visas in the past. If you are being asked to travel for an interview, it would be wise to ask, "Is this a position in which the company is willing to petition for an H1-B as I am currently in F-1 status?"  For an additional perspective on this question, read this excerpt from a presentation (PDF) by Adrienne Nussbaum, Assistant Dean for International Student Services at Boston College.
Are there questions that are illegal for an employer to ask me?
An employer MAY NOT ask: "What is your visa type, nationality, place of birth?" or "Of which country are you a citizen?" or "What is your native language?" or "What language do you most often speak?" An employer MAY ask: "Are you legally authorized to work in the United States?" or "Will you now or in the future require sponsorship for an employment visa?" or "Which languages do you read, speak or write?" (provided that foreign language skills are job-related)
I am in F-1 status. What should I say when an employer asks about my work authorization?
Explain that you have the legal right to work in the U.S. for up to twelve months using Optional Practical Training (OPT) following graduation. The employer does not need to do anything in order for this to happen. If you have graduated with a degree in one of the STEM (Sciences, Tech, Engineering, and Math) fields, then share that you are eligible for a 24-month STEM extension of your OPT. If you do not have a degree in a STEM field or if you've completed your STEM extension, you should explain that your work authorization may be authorized for another three-to-six years with H-1B status. If the employer asks for more information, you should be able to clearly explain the H-1B process. To learn more, OGS hosts an H-1B session each semester. Helpful hint: Avoid using the word "sponsor," instead use the word "petition" when speaking about H-1B status.
Find A Job
Take advantage of the wealth of Career and Job Search Resources offered by the Career Center, including Handshake, the main portal for students to access career center appointments, on-campus recruiting, job postings and events.
Utilize Informational Career Center handouts including, The Resume Guide, Ace the Interview, Cover Letter Template, Developing Your LinkedIn Profile Tips, and How to Successfully Network.  
Are you ready to say Hello?
Choose a Pathway
Information will vary based on program level. Select a path to find the information you're looking for!