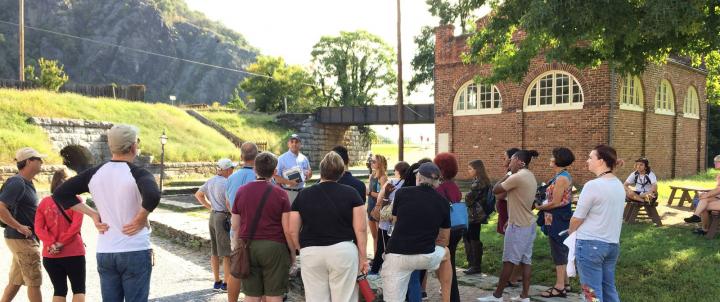 The Hood College History Department offers a wide array of fascinating courses about the human past, covering periods and subjects from the ancient world through recent American and global topics. Our faculty members enjoy working closely with students in small classes, research projects, internships, and independent study projects. 
As a Hood history major, you will acquire an excellent liberal arts education, consisting of a broad knowledge base and skill set that will prepare you for a wide variety of careers in government, business and nonprofits of tomorrow's fast-changing world.
All history department faculty members love working with and helping students and sharing their passion for history. Faculty publish books and articles, travel internationally, bring research into the classroom, and advise and mentor students daily. They represent a wide range of interests and strengths. While faculty members are active scholars in their individual research fields, their primary concern is teaching.
You'll have access to an array of fascinating and unique topical courses, including:
America in the Sixties
African Americans and Sports
The Indigenous World
Global Empires
Europe in the Age of Total War
From Celts to Vikings
Women in Medieval Europe
Cultural Encounters in Latin America
American Frontiers
Beyond the Classroom
You'll get real-world experience via a required history internship. Hood's location near Civil War battlefields, the nation's capital, the capital of Maryland and the seat of Frederick County provides a wealth of historical sites and internship opportunities. Locations where Hood history students have interned include:
United States Holocaust Memorial Museum
Yellowstone National Park
National Museum of Civil War Medicine
Harpers Ferry National Historical Park
Maryland State Archives 
Fort McHenry
Hood College Archives
Hampton National Historic Site
Gettysburg National Battlefield
Are you ready to say Hello?
Choose a Pathway
Information will vary based on program level. Select a path to find the information you're looking for!