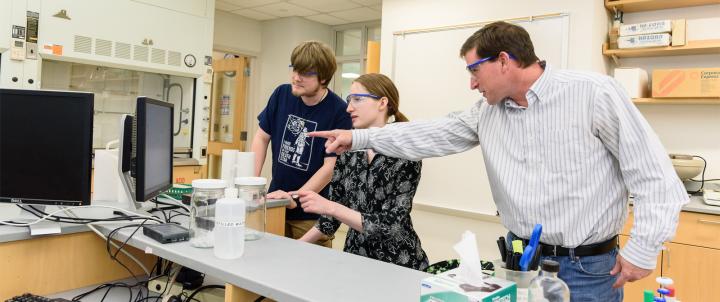 About this Program
A diverse discipline that explores the complex properties of substances.
Program Overview
Often called "the central science," chemistry involves careful research and study of both organic and inorganic matter. Our program provides students with valuable, hands-on training in the methods of scientific investigation using state-of-the-art instrumentation. The department focuses specifically on providing extensive laboratory experience to all students, complementing a strong foundation in chemical theory.
Class projects and presentations will develop your ability to speak clearly and write cogently on relevant scientific topics. Advanced students are encouraged to conduct independent projects and to participate in the wide variety of research opportunities and internship positions available on campus or at professional laboratories in the Frederick and Baltimore-Washington, D.C. area.
With the excellent grounding in both theory and research, you may choose to pursue chemistry in graduate school or study law, specialize in forensics, teach at the high school level or work at a biotech firm.
For more information see the Course Catalog. 
The Chemistry Minor
The minor in chemistry provides a broad introduction to the field by combining a core of chemistry courses with additional study in electives of your choice.
Department Offering
Are you ready to say Hello?
Choose a Pathway
Information will vary based on program level. Select a path to find the information you're looking for!
Internships
Serve as an intern at National Institutes of Health, National Cancer Institute, U.S. Department of Agriculture and other local partners.
Scholarships
Interested in teaching STEM classes at middle/high schools? You may qualify for the Noyce STEM Teacher Education Partnership scholarship!
Career Outlook
Chemistry majors work in health care, pharmaceuticals, toxicology, manufacturing, environmental services and more.
Faculty-Mentored Research
The physical sciences are hands-on disciplines, and nothing prepares you for the next step. You'll have the opportunity to take part in research in a nearby laboratory or on campus with a Hood faculty member.
All Faculty