Hood College to Host 126th Commencement Ceremony Saturday, May 20
Commencement to feature more than 490 students, first graduates from public health, sustainability studies, finance programs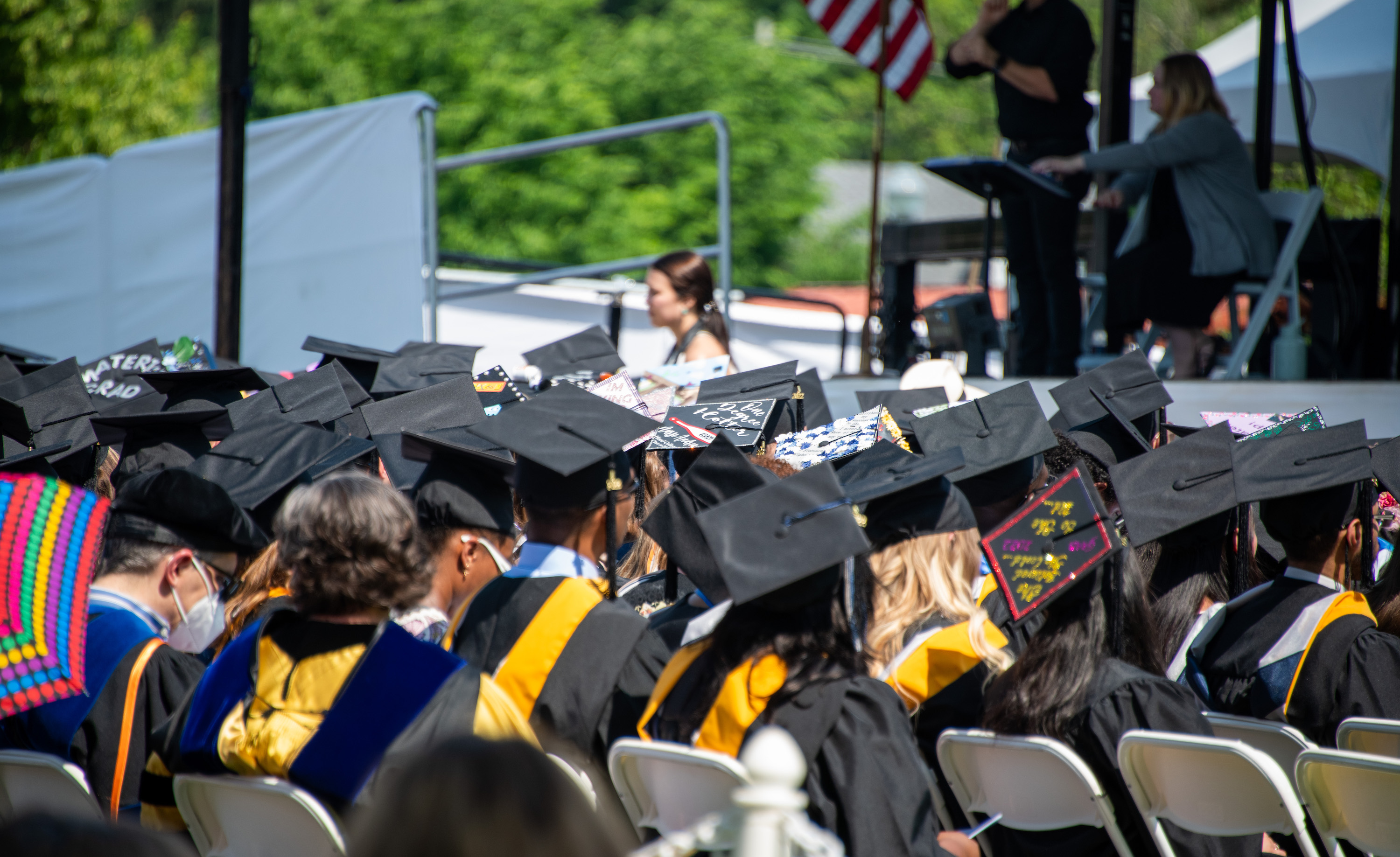 Hood College's 126th annual Commencement ceremony will be held outdoors on the College's quadrangle on Saturday, May 20 at 10 a.m. (severe weather location: Ronald J. Volpe Athletic Center), with Hood College President Andrea E. Chapdelaine, Ph.D., conferring degrees upon 491 undergraduate and graduate students in the Class of 2023. The ceremony will also be livestreamed via the Hood College YouTube channel.
The ceremony will feature multiple academic "firsts," as Hood will graduate its first-ever students from the College's public health program, as well as the College's first graduates from the both the sustainability studies and finance programs.
The Class of 2023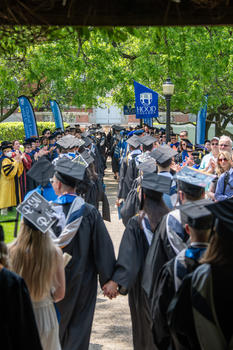 In total, the Class of 2023 features 491 students, an increase of 61 graduates from 2022's ceremony.
Hood's undergraduate Class of 2023 totals 260 students from 18 different states and Washington, D.C., and 11 different countries. The top three most popular majors for this graduating class are business administration, law and criminal justice and psychology.
The undergraduate class includes 31 "legacy" graduates, which indicates that a direct relative also graduated from Hood. Additionally, five members of the undergraduate class are veterans, and two are active-duty service members.
Hood's 2023 graduate class, which totals 231 members, features 38 students who have received an earlier degree from Hood as well as 12 legacy students. Eight students will receive their Doctorate in Organizational Leadership. Additionally, eight members of the graduate class are Hood employees, and six members are active-duty service members.
Students in the graduate Class of 2023 hail from 10 different states and Washington, D.C., as well as 11 different countries, includingGhana, Haiti, Madagascar and Nepal.
Commencement Speakers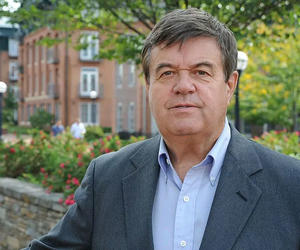 Maryland State Senator and Frederick Mayor Ronald Young has been selected as the speaker for the Class of 2023. Young served as the mayor of Frederick City from 1973 to 1989, leading multiple transformational projects during his tenure, including construction of Carroll Creek Linear Park as well as the establishment of the Weinberg Center for the Arts and Harry Grove Stadium. In 2010, Young was elected to the Maryland State Senate for District 3, in which Hood is located. During his time in Annapolis, Young supported Frederick by backing bills that funded education, economic development and more before retiring in 2022.
Additional speakers include Hood College President Chapdelaine, who will give her annual presidential address to the graduating class, as well as Senior Class President Victoria Aghamalian '23 and graduate student Alexis Ogren, M.S.'23, who will address their peers.
Honorary Degrees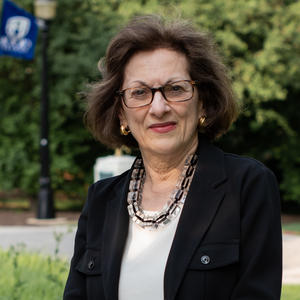 During the ceremony, honorary Doctorates of Humane Letters will be awarded to Judith E. Messina '66 as well as speaker Ronald N. Young.
Messina graduated from Hood College in 1966 with a Bachelor of Arts in English. Post-graduation, she served on the Board of Trustees from 2004 to 2023, serving as chair from 2017 to 2023.In 2016, Messina, along with her late husband David Fleischer, established the Chair of the Board Scholarship at Hood, which fully covers the cost of tuition for first-year students of outstanding promise. Since the establishment of the scholarship, more than 75 of Hood's best and brightest students have benefitted directly from Messina and Fleischer's gift.
During Young's time both as mayor of Frederick City and Maryland State Senator for Frederick's district, he spearheaded projects and backed legislation that significantly improved Frederick's infrastructure and cultural development capabilities, while bolstering the state's budget for economic and educational development. Due to Young's efforts throughout a political career spanning half a century, Frederick has become an enviable hub for arts, entertainment, fine dining and business, shaping the city Hood calls its home.
Other Commencement-related Events
In addition to the 2023 Commencement ceremony, multiple events are scheduled on Wednesday, May 17; Thursday, May 18; and Friday, May 19.
Wednesday, May 17, 2023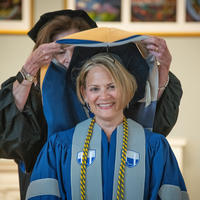 Doctoral Hooding Ceremony, 5-6:30 p.m., Coffman Chapel
The Hooding Ceremony is a special event in which a doctoral hood is placed on a student's shoulders to formally recognize the completion of their doctoral program. Doctoral students will wear their full regalia and doctoral hood during the Commencement ceremony, where their degree will officially be conferred.
Graduate Degree Recipient Reception, 7-8:30 p.m., Coblentz Dining Hall
Hosted by the dean of the Graduate School, this event for faculty, graduate degree recipients and their guests includes the presentation of Graduate Student Awards and Graduate Teaching Excellence Awards.
Thursday, May 18, 2023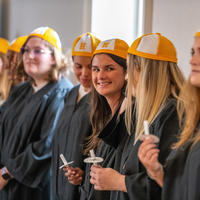 Baccalaureate Service, 4 p.m., Coffman Chapel
Graduating students, their families and community members are invited to an annual Baccalaureate Service, which includes a multi-denominational service as well as a celebration and farewell of the graduating class.
Senior Class Luau and Gift Check Presentation, 6-7:30 p.m., East Cottage
Members of the graduating class are invited to join President Andrea E. Chapdelaine, Ph.D., for a celebration at her home featuring food, drink and the presentation of the class's senior gift to Hood.
Friday, May 19, 2023
Nursing Pinning Ceremony, 10 a.m., Whitaker Campus Commons
The annual Nursing Pinning ceremony is a symbolic welcoming into the nursing profession of newly or soon-to-be graduated students from Hood's nursing program. Nurses are presented with pins by either faculty members, family or a person of significant importance to them.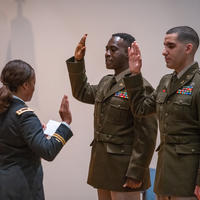 ROTC Commissioning Ceremony, 1 p.m., Whitaker Campus Commons
Graduating members of the U.S. Army Reserve Officers' Training Corps program at Hood are formally commissioned as Army officers with the rank of second lieutenant and the intent to serve on active duty, in the Army Reserve or with the National Guard.
For frequently updated information regarding the ceremony, visit hood.edu/commencement.
Media Contact