Hood's Third Annual Three-Minute Thesis (3MT) Competition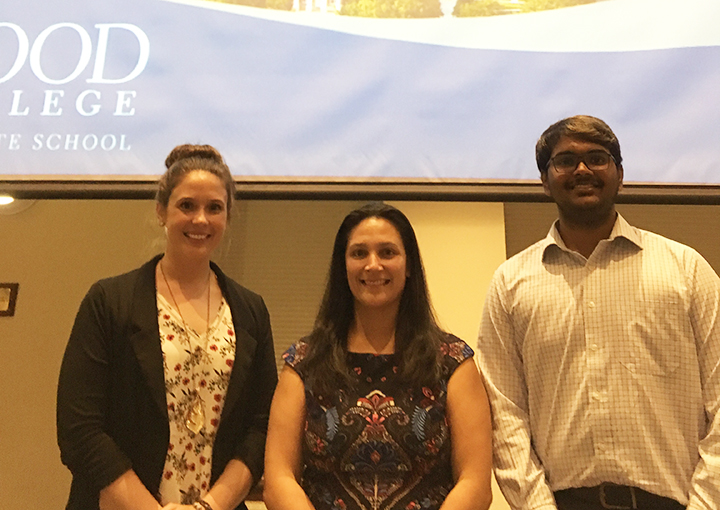 Kelly Cunningham, a Master of Science candidate in Environmental Biology, is Hood College's 2018 Three-Minute Thesis (3MT) competition winner. Kelly's thesis is entitled Identifying Locations in the Greater Washington D.C. Area Most at Risk from Future Development, on the risk to the environment of development in our local area. Kelly presented a technical problem in a non-technical way and was awarded the $600 first-place prize from Hood's Graduate School.
Members of the audience selected two People's Choice winners, each of whom was awarded $200. Winners were Kamal Saran Rangavajhula, an M.S Candidate in Management of Information Systems (MIS), presented his semester-long research Detection of Unauthorized Usage of User Accounts through Mouse Dynamics. Kemal conducted this research with the help of professors Dr. Carol Jim and Dr. Ahmed Salem. Jessica McClain, an M.S candidate in Curriculum and Instruction, won with The Effects of Metacognitive Reading Strategies on French L2 Vocabulary Acquisition.
Internationally recognized and valued by employers, the 3MT competition is a way for graduate students to relay their capstone, advanced project, thesis or internship to a non-technical audience. 14 Hood Graduate students gained valuable experience in developing academic, presentation and communication skills. Applicants from seven Master's Programs — MBA, Environmental Biology, Biomedical Science, Bioinformatics, Curriculum and Instruction, Management Information Systems, and Thanatology, and two 2 Doctoral programs — Doctorate of Organizational Leadership and Doctorate in Business Administration participated. This was Hood's third year of 3MT sponsorship and The Graduate School hopes to continue this fun and educational tradition in years to come.
Congratulations once again to our winners!
Media Contact
Graduate School
Graduate Student
Awards
Biomedical & Environmental Graduate Programs
Computer Science & Information Technology Graduate Programs
Education Graduate Programs