Hood College Celebrates Inaugural International Education Week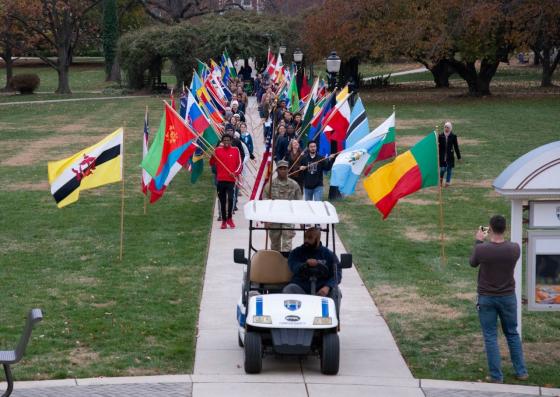 Hood College celebrated its inaugural International Education Week (IEW) during the week of November 18 - 22, 2019.
Celebrating Hood Cultural Diversity
Program
Department
Global Languages & Cultures
Hood College celebrated its inaugural International Education Week (IEW) during the week of November 18 - 22, 2019. This joint initiative of the U.S. Department of State and the U.S. Department of Education is part of a national effort to promote programs that prepare Americans for a global environment and attract future leaders from abroad to study, learn, and exchange experiences. The entire Hood community was invited to participate in the week-long series of events to celebrate the benefits of international education and exchange worldwide.
Hood College's IEW kicked off with a grand parade of flags comprised of students, staff and faculty carrying a total of 108 country flags. The parade, led by the U.S. flag, began at Hood's Rosemont Avenue gates and make its way up to the steps of Coblentz Hall on the other side of campus. The enthusiasm and pride were evident with parade participants waving colorful country flags to uplifting international music and displaying an overall sense of cultural unity.
After reaching the steps of Coblentz Hall, parade participants formed a semi-circle for the opening ceremony. Rev. Beth O'Malley, Dean of the Chapel, began with a blessing followed by President Chapdelaine who gave an inspiring speech about the importance of diversity. Next, Paige Eager, Ph.D., Global Studies, provided context for International Education Week and shared statistics about Hood College international and study abroad students. The opening ceremony was followed by a tasty international dinner at Coblentz dining hall.
On Tuesday, Hood College celebrated Diwali, the Indian celebration of lights, courtesy of Hood's Indian and Nepalese student association. The Diwali celebration included bright decorations, a solo dance performance, a group dance competition, and traditional Indian cuisine. On Wednesday, Hood's Department of Global Languages & Cultures hosted an International Student Lunch consisting of a panel of international students discussing their experiences studying and living in the U.S. and abroad. Thursday included an International Tea Tasting event sponsored by the Office of Diversity & Inclusion. The tea tasting took place in the Whitaker Center and featured teas from around the word which were sampled by the Hood community throughout the day.
Hood's week-long celebration came to a grand finale on Friday with the anticipated International Festival sponsored by the Saudi Student Association. The festival took place in the historic Brodbeck Hall and showcased Hood's cultural diversity with a "travel the globe" themed photo corner, a henna tattoo booth, and international cuisine served by students in traditional outfits. The festival ramped up with an international fashion show, cultural dance performances, and fun games. It was the perfect ending to a colorful and culturally-packed week!
Hood College's International Education Week was co-sponsored by the Graduate School, the Center for Global Studies, Study Abroad, Office of Diversity and Inclusion, Saudi Student Association, Dean of the Chapel, and the Office of International Student Services. Learn more about Hood College's International Education Week here.
Are you ready to say Hello?
Choose a Pathway
Information will vary based on program level. Select a path to find the information you're looking for!