Hood Alert (using Rave Mobile Safety)
Hood Alert, the campus emergency notification system, gives college administration and security professionals the ability to reach participating students, faculty, staff, parents and others with time-sensitive information during unforeseen events or emergencies.
Overview and Login
Hood College utilizes RAVE Mobile Safety to provide timely campus safety and closure alerts to students, faculty, and staff. These notifications can be sent in email, as a phone call, to the Guardian mobile app or as texts to a mobile phone. During critical situations, Hood College officials can use the system to broadcast pertinent information and provide instructions as appropriate.
The information you provide will not be shared with other entities and it will be kept confidential. The Hood Alert is used only for Hood College emergency communication purposes, including weather-related delays or cancellations.
By default, ALL active students, faculty and staff are registered with the RAVE system.
The RAVE dashboard allows users to view what contact methods they have registered, send test alerts to their selected contacts, and to make changes.
To log into the RAVE dashboard, click this link Rave Login - Hood College  and enter your Hood College user ID and password. You will receive a 6-digit code in your Hood email as RAVE uses multi-factor authentication.  Enter the 6-digit code to complete the login process.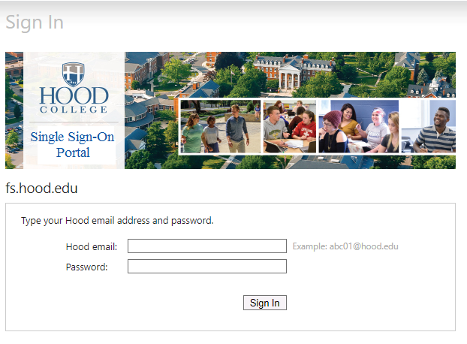 The RAVE dashboard will display and you will see the "My Account" tab by default (pictured below). The dashboard will display your name, Hood email address, and any additional phone numbers, email accounts, or voice-only line contacts you have added to RAVE.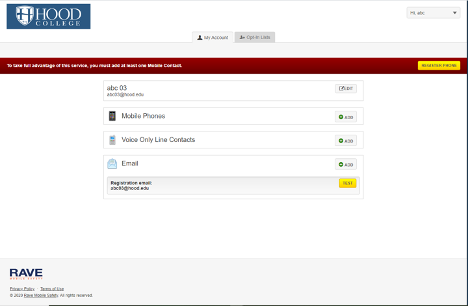 To add a new contact:  click the "+ ADD" button next to each type of contact.
To remove a contact:  click the red X button next to that contact entry. Please note the Hood College email account cannot be removed and will always be active in Rave.
To change a contact:  click the pen-and-paper button next to that contact entry.
If you wish to update your contact information used by the College information systems, please visit Hood Self-Service. 

Once logged into Self-service, click on the "My Profile" tab and fill out the appropriate sections if you wish to record changes.
For parents, alumni, business partners, visitors, and outside members of the Hood community:
Simply text the keyword HoodAlert2020 (not case-sensitive) to one of the following short codes to receive alerts from the Hood Alert system:

226787 (CAMPUS)
67283 (MRAVE)
78015
77295
Recipients can use any of these short codes at any time to sign up and manage their subscriptions. Message and data rates may apply. Text messages are sent on an as-needed basis. This service is provided per Raves' Terms of Use and Privacy Policy. Text STOP to the short code you used above to cancel or HELP for tech support.
Hood Alert does not charge for this service, however, your mobile phone company may charge for text messages. Please refer to your mobile phone's service plan for more information.
You can also visit smart911.com to create a free safety profile.
Enabling Text-to-Speech
RAVE alerts are compatible with standard smartphone text-to-speech accessibility features. Please visit the appropriate link below for more information and instructions on how to enable text-to-speech functionality on your device.
Enable text-to-speech options on iOS
Enable text-to-speech options on Android
For Further Assistance
If you have additional questions, concerns, or need immediate assistance, please contact campus safety at security@hood.edu or 301-696-3548.
Are you ready to say Hello?
Choose a Pathway
Information will vary based on program level. Select a path to find the information you're looking for!