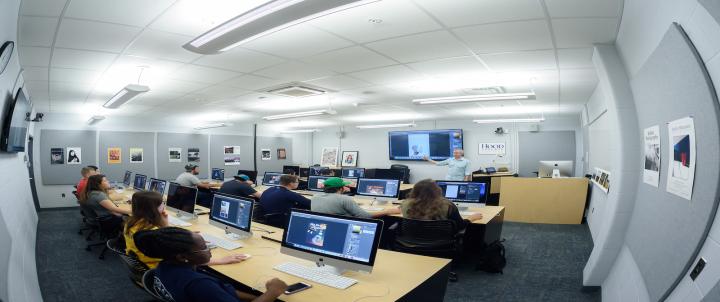 Email Signature Standards
As an institution, we have branding standards that provide us a professional and consistent look across all contexts, including stationery for traditional mail. Today, we correspond far more frequently via email than printed letter. Email signatures should be considered a part of the brand, just like letterhead.
The Office of Marketing and Communications has issued the following guidelines for incorporating a signature in your email communications. These guidelines will help ensure that your hood.edu email meets professional standards, represents the quality of your work and the College's business, provides relevant information to support your business process, and presents a consistent, cohesive look to those we communicate with via email.
How to Change your Signature
Template
Open the signature template; copy and paste the template into the signature field of your email settings and modify the content to reflect your personal information.
Information Structure
Job titles and departments should be separated by a comma or a hard return (shift + return) for those with dual appointments or multiple areas of responsibility.

Inclusion of cell and fax numbers is a personal preference and not mandatory.
Hood Alumni
Hood alumni may include their class year(s) after their name. See the Editorial Style Guide for more information on class year abbreviations.
Gender Pronouns
Gender pronouns may be included in your signature. They should appear under your title in the same font size, unbolded.
Alternate Logos
The Graduate School, athletics and the lab school may choose to use their official Hood College logo and link to their homepage, in place of the institutional logo and hood.edu. Links to specific departments or offices may be included in addition to the above-mentioned homepages; these should appear in text below your email address. Wordmarks for departments, programs or teams may not be used in email signatures.
Social Media
If your department has sub-brand social media accounts, you may link those instead of the institutional accounts. 
Dos and Don'ts 
Do keep it simple; include only the essential information pertinent to your position at the College.

Do keep it professional. 

Do use common sense. Your signature does not need to be included in every message, especially when it is part of an ongoing conversation.

Don't include vCards; they increase file size and appear as attachments.

Don't include tag lines, quotes or graphics not related to College business.

Don't include non-Hood affiliations or organizations.
Are you ready to say Hello?
Choose a Pathway
Information will vary based on program level. Select a path to find the information you're looking for!