On Sept. 12, 2018, we officially closed our 125th anniversary celebrations and kicked off the next 125 years with the launch of our new website!
Our website thrives on stories and imagery, from the opening flyover showcasing our beautiful campus to the engaging photos of students and faculty that greet you on nearly every page. It was designed to highlight and celebrate the talent, diversity and character of Hood College.
When this project started last November, the web team had one goal in mind:
To bring the spirit of the Hood Hello to the website
Drawing on quantitative data about our web visitors' behaviors and qualitative data about preferences and frustrations, we have created a more dynamic, user-friendly site.
New things to notice:
Audience navigation under the "Information For" dropdown, allowing the most useful links for current students, faculty and staff, and alumni 

is all

 in one place

More prominent ways to showcase the stories of our faculty, students and staff

Full responsiveness on any screen or device

A more streamlined navigation shaped by user behavior

A vibrant design and updated content

A new flexible, intuitive content management system, Drupal 8
A website is a living, breathing thing and is never "completed." Over the course of the semester, we'll make continual enhancements to content and features. We'll also be "kicking the tires" and finding immediate things that need to be altered. We appreciate your patience as we make our way through those items.
This is the first comprehensive overhaul of hood.edu in nearly a decade, and we are so excited to roll it out to you!
We'd love to hear your thoughts. Share your feedback at marketingoffice@hood.edu.
The core web project team included representatives from marketing and communications, the Graduate School, enrollment management and information technology.
Working with our agency partner, OHO, we also held open focus groups with key offices across campus, current students and alumni. Interns from the marketing and communications office also had input on everything from design concepts to content. 
Chrome, Firefox, Edge and Safari have all been tested and the website works best in those browsers. Unfortunately, Microsoft made the decision to stop making updates to Inter Explorer, making it more difficult for websites -- including hood.edu -- to be supported in that browser. 
The College's website should be dynamic and vibrant, capturing the spirit of Hood. It should also be easy to use so that content can be updated often. Hood.edu has been essentially the same website for nearly a decade, with no design updates and only minimal content updates. The site also has not kept up with our users' expectations for things such as responsiveness and usability.
Try using the site search, located in the top right corner of the screen. You can also browse the specific audience pages under the "Information For" dropdown.
We've been working with content owners and will continue to ensure that all content has been moved over to the new site.
Some pages run from third-party vendors that are separate from hood.edu. We're working with each vendor to bring the design of those pages more in line with the new site.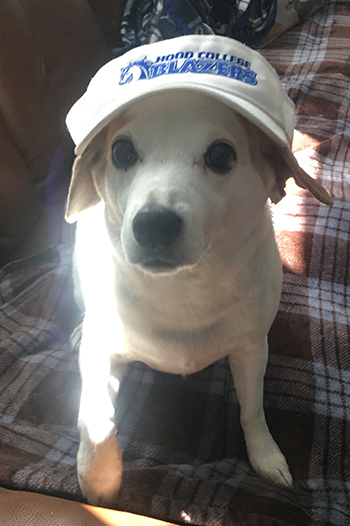 In the early stages of the building the site, we used a lot of FPO (for placement only) pictures to make building specific pages go quicker. A lot of those pictures were of our marketing director's dog.
We think we've found all the pictures of him, but you may see Bernie pop up where you least expect it.
Are you ready to say Hello?
Choose a Pathway
Information will vary based on program level. Select a path to find the information you're looking for!