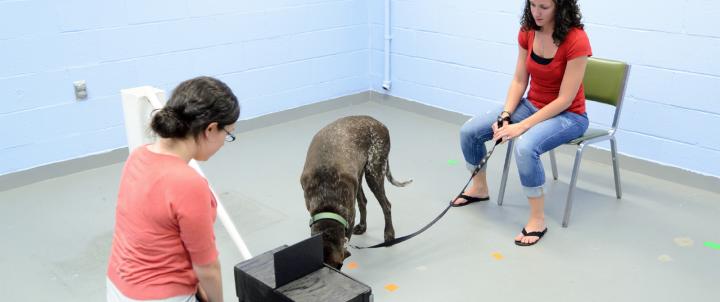 Department of Psychology & Counseling
Why do we act as we do? How do we perceive, process information and learn? What affects our feelings, forms our thoughts, shapes our personalities? How do we study or measure these things? Hood psychology majors explore the complexities of human behavior—from first responses at birth to the process of death and dying. Equipped with a broad background in the liberal arts, with specific scientific knowledge, and with practical experience in the field, you will be well-prepared for graduate school or professional opportunities in the workforce.
Beyond the Classroom
Hood's location near Baltimore and Washington, D.C. makes it possible to secure internships with leading facilities such as:
Brook Lane Hospital
Clearview Communities
Daybreak Adult Day Services
Frederick County Juvenile & Social Services
Federal Bureau of Investigation (FBI)
Jefferson School
Johns Hopkins University
Frederick County Mental Health Association
Mission of Mercy
Monocacy Neurodevelopmental Center
National Institutes of Health (NIH)
The Smithsonian Institute
The White House
Way Station, Inc.
Beyond your Bachelor's Degree
A psychology degree from Hood is excellent preparation for entry-level careers in many human services settings (including administration, outreach and outpatient programs, community homes, schools and non-profit organizations), as well as social science research and personnel work (including at the FBI, NIH and Johns Hopkins). Many careers in this field require an advanced degree and a license to practice.
The psychology and counseling department offers two master's degrees and one certificate. The counseling M.S. provides training in clinical mental health counseling or school counseling, structured to allow graduates to become licensed clinical professional counselors (LCPC) or certified school counselors.
The program also has an optional certificate program in thanatology, which focuses on the study of death, dying, grief and bereavement. The interdisciplinary studies in human behavior M.A. provides an interdisciplinary approach (psychology, thanatology, counseling, sociology) to the problems of contemporary society and their impact on individuals.
About two-thirds of Hood's psychology majors pursue graduate studies at Hood or other institutions such as:
Catholic University of America
East Carolina University
George Washington University
Loyola University
Northwestern University
University of Maryland - Baltimore
Careers in Psychology
Addiction counselor
Adolescent care technician
Affirmative action officer
Behavior analyst
Child protection worker
Clinical Psychologist
Community outreach coordinator
Compliance officer
Crime prevention coordinator
Director of youth service bureau
Early childhood specialist
Grants coordinator
Patient service representative
Probation officer
Group Residence Counselor
Veteran adviser
Are you ready to say Hello?