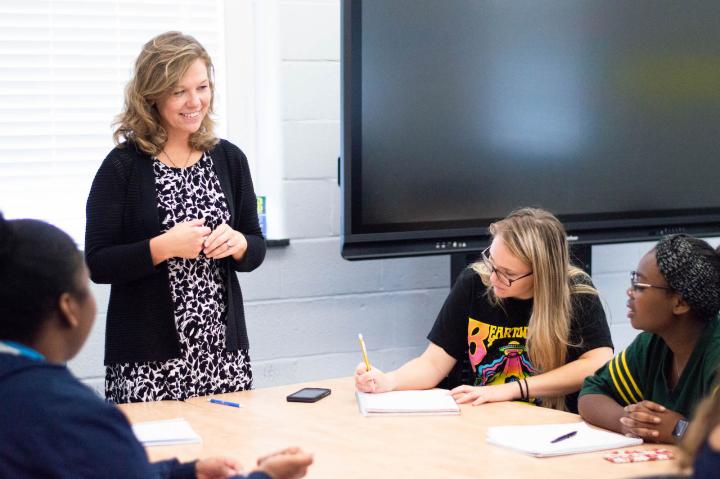 The Winter 2024 semester will be held January 2 - January 19.
The Spring 2024 semester will be held January 23 - May 14 (including Undergraduate Final Exam Week).
Important information:
Tuition & Fees:
Tuition rates are available on the Accounting Services webpage.
Graduate classes will be billed by cluster as designated on the Accounting Services webpage.
For questions regarding billing, contact the Accounting Office at 301-696-3607 or accounting@hood.edu.
Course Registration Drop/Add Deadlines: 
Current students will be able to register themselves via Self-Service for Spring 2024 until Sunday, January 28th at 11:59pm. After that, all schedule changes must be processed through the registrar's office. The drop/add period for Spring 2024 ends on Thursday, February 1 at 5pm.
See below for important dates and steps for undergraduate registration
Only your assigned academic advisor listed on Self-Service may authorize you for registration in the system. In the event you are unable to register for courses via Self-Service, registration forms must be completed and signed by your advisor. Keep a copy of your approved registration form as a backup and, if you are registering for any courses that need faculty approval, your registration form will be needed for processing these course registrations in the Registrar's Office.
Prerequisites: You may register only for courses for which you have met the required prerequisites.

Select alternate courses in case your first choices are full. 
Department chair and instructor signatures are needed for independent studies and X-credits. Instructor signatures are also needed for departmental honors and any course which requires the permission of the instructor to enroll. Registration for any of these course types must be done by using the Registration Drop/Add form in person in the Registrar's office, Monday-Friday, 8:30 a.m. to 5 p.m. or via email (registrar@hood.edu).
Resolve any holds placed on your account, such as those noted by Accounting, Registrar's Office, Library, Wellness Center, or Residence Life/Dean of Students. Failure to clear holds may result in blocked registration. 
The order of registration is determined by current class standing based on credits earned (does not count enrollment for the current semester in progress). Once registration is open for your class, it continues to be open until classes begin. 
The schedule for Winter and Spring 2024 registration is as follows: 
Class and Registration Times 
Seniors (87 or more credits earned): Monday, November 13, 12:01 a.m. 
Juniors(56-86 credits earned): Tuesday, November 14, 12:01 a.m. 
Sophomores(25-55 credits earned): Wednesday, November 15, 12:01 a.m. 
First Years (fewer than 25 credits earned): Thursday, November 16, 12:01 a.m. 
Once your advisor has authorized that you are clear to register online, you may enter your course selections according to the schedule listed above. 
100 percent tuition refund before the first day of class for all sessions
80 percent tuition refund within the first two calendar days of one- and two-week sessions; zero percent tuition refunds thereafter
80 percent tuition refund within the first four calendar days of three- and four-week sessions; zero percent tuition refunds thereafter
80 percent tuition refund within the first seven calendar days of five- and six-week sessions; zero percent tuition refunds thereafter
AC POOL       Aquatic Center
AD                  Alumnae Hall (Administration Building)
AP                  Apple Resource Center
AT WGHT      Athletic Center Weight Room
AT TURF       Athletic Center Turf Field
BR                 Brodbeck Music Hall
CH                 Chapel
GA GYM        Gambrill Gymnasium
GA DNCE      Gambrill Dance Studio
GA LNGE      Gambrill Lounge
GA TENN      Gambrill Tennis
GA YOGA     Gambrill Yoga Room
HO                Hodson Ceramics Center
HT                 Hodson Technology
LB                 Library
OC                Off Campus
OP CDL        Georgetown Hill Child Development Lab
RO                Rosenstock Hall
TA                 Tatem Arts Center
TBA              To Be Announced
TH                Tollhouse
WC               Whitaker Campus Center
Are you ready to say Hello?
Choose a Pathway
Information will vary based on program level. Select a path to find the information you're looking for!