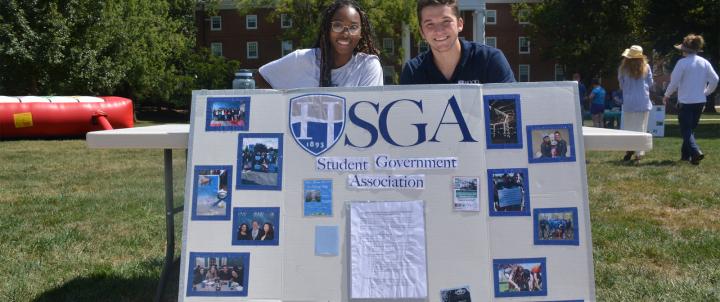 Student Government Association
The Hood College Student Government Association (HCSGA) shares the vision, mission and values of Hood College in building a sense of community, celebrating diversity and inclusiveness, and preserving the college's rich heritage.
HCSGA wishes to actively shape and build upon Hood College's traditions of honor, personal responsibility and democracy. HCSGA aims to pursue the principles upon which Hood College was founded and to empower students by creating positive change through the unique privilege of self-governance.
We aim to provide a forum for student concerns and issues where solutions and proposals may be sought and compiled in order to improve the quality of education and life for the Hood Community. HCSGA exists to ensure that any student who wishes to be represented has the proper channels to be heard and recognized.
If you are the president or treasurer of an Hood College Student Government Association (HCSGA) funded organization at Hood, you will be emailed by the HCSGA finance chair when it is time for you to submit a fall or spring budget for your organization.
Please follow the directions in that email and send your finalized budget to the finance committee advisor and the finance chair so it can be approved and/or adjusted by the HCSGA finance committee.
The electronic copy of the constitution for the HCSGA is available for your viewing. Please contact the current president of the HCSGA if you would like a hard copy or if you would like to request an amendment to the constitution. The HCSGA constitution is updated every two years by an internally-elected constitution committee as outlined in the constitution
The HCSGA executive board will offer weekly office hours with each executive member for any student to be able to speak with an officer. Exec members will be at the HCSGA desk in the back of the student life suite to answer any questions, concerns, suggestions, etc. that you might have. Each officer will have availability for one hour a week.
Please check your email, SGA social media or the SGA bulletin board for this current month's schedule!
Are you ready to say Hello?
Choose a Pathway
Information will vary based on program level. Select a path to find the information you're looking for!