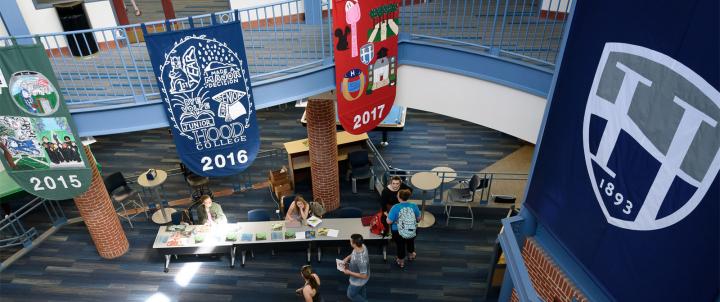 At Hood, it is not only possible, but absolutely encouraged to start your own organization. It's a simple process and a great plan if you cannot find the ideal organization you've been picturing as something perfect for you to join and get involved in.
In order to begin a new club, first, click here to download the new organization packet. You will need to fill out this packet which includes questions for you to answer, a signature sheet for potential members and guidelines to craft an executive board and a constitution.
Completed packets should be brought to student life and from there, they will be sent to the Hood College Student Government Association (SGA) chair of student life where they will be reviewed by the Student Life committee. You will have a chance to meet with the Student Life committee to go over your constitution.
After edits and approvals, you will have the opportunity to present your club and constitution to the senate for approval. If approved as an organization in Senate, the club will move to a vote in the executive board for approval.
If you are approved in both governmental bodies, you will officially be an organization! Please be sure to review the Student Organization Handbook to familiarize yourself with the SGA policies governing student organizations.  Please ensure that you utilize Pergola Connect to reauthorize your student organization at the beginning of each academic year and to update your Executive Committee Officers and members. If you need assistance with this process, please contact Bonnie Nipper at nipper@hood.edu.
Are you ready to say Hello?
Choose a Pathway
Information will vary based on program level. Select a path to find the information you're looking for!