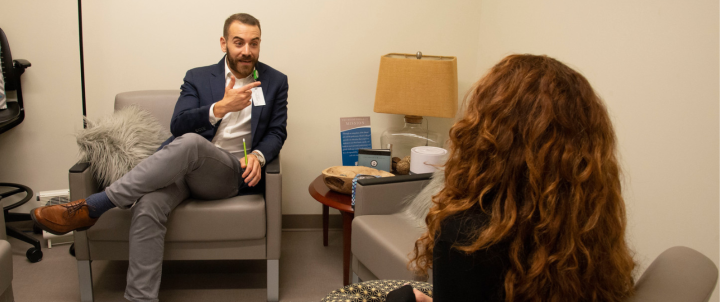 Welcome to Counseling Services!
Whether you are a new or returning Hood student, the counseling services staff are SO glad you're here!
We know you will find Hood to be a challenging, welcoming and diverse environment that offers innumerable opportunities for personal and academic growth. It is our mission to serve as an essential resource to all students to help you maximize benefit from both your academic experiences and out-of-class learning opportunities by providing short-term, solution-focused mental health services. 
Schedule your intake session by accessing the Client Portal! If you don't see a time that works for your schedule or want to be put on a wait list, email counselingservices@hood.edu, or visit NCTC or another resource listed below.
Did you know?
There is no charge for students to talk with a counselor through the Hood College Counseling Center. See below to learn more about visiting the Counseling Center, how to make an appointment at Counseling Services and other mental health resources available in the community.
We are starting group therapy!
Starting Thursday, Sept. 29, 2022, Counseling Services and the Neighborhood Counseling Training Center will partner to offer group therapy for those experiencing academic anxiety. Students who are interested in group therapy should email nctc@hood.edu to be screened for addition to the group. Groups will meet on Thursdays from 1-2PM from Sept. 28 to Nov. 10.
Are you ready to say Hello?
Choose a Pathway
Information will vary based on program level. Select a path to find the information you're looking for!