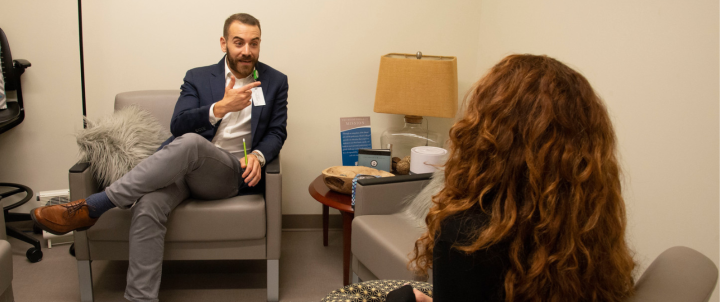 Welcome to Counseling Services!
New clients: Access the Client Portal to make your initial 15-minute consultation. At this time we cannot accept new clients, but will refer you to the NeighborHood Counseling Training Center or another appropriate community provider. 
All clients: You can search for a community provider using our online database, Thriving Campus. Filter providers based on your specific needs and preferences such as insurance accepted or provider gender or specialty. Lastly, athletes that are in season have access to a sports psychologist. 
Hood College Counseling Services offers free counseling services to all currently enrolled undergraduate and graduate students at Hood College. 
Location: Apple Resource Building 8A
Walk In Consultation Hours: Walk in hours are available while classes are in session. Make your 15-minute consultation appointment using the client portal. Closed during winter break.
There are many mental health providers in the Frederick community that provide services to Hood College students. These services are not covered by Hood College, but most providers accept numerous insurance providers including Medicaid.
Advanced Behavioral Health (ABH) is located across from campus and can provide psychological and psychiatric services. ABH accepts insurance.
Thriving Campus is an online resource that allows individuals to search for mental health providers in the Frederick community. You can filter the list of providers by insurance accepted, gender, race or area of practice. 
Mental Health Association of Frederick Walk in Services are free for suicide intervention, mental health services and urgent psychiatric medical evaluations. Walk in appointments are open 10AM-10PM on Mondays-Fridays and from 10AM-6PM on Saturdays and Sundays. They can also be reached by dialing 2-1-1. 
EveryMind is committed to strengthening communities by providing programs and services that comfort, empower, help, and heal. They are helping to remove the barriers that keep people from achieving optimal mental health and wholeness and offer counseling support to residents of Montgomery County and those receiving Medicaid benefits. 
The Substance Abuse and Mental Health Services Administration (SAMSA) helps to locate mental health and substance abuse providers across the United States.   
JED Foundation Resource Center provides essential information about common emotional health issues and shows teens and young adults how they can support one another, overcome challenges, and make a successful transition to adulthood.
This article from the U.S. Career Institute gives a list of strategies and tips to improve mental and physical wellness at home using mindfulness practices. It links to a variety of resources and articles about a number of topics related to physical and mental well-being.
Seize the Awkward is a national campaign that has numerous tools and conversation guides to help you help those in need.
The JED Foundation provides a helpful guide as well as resources that can help you to find a culturally competent therapist. 
Hood College's Assisting Students in Distress Flow Chart
Call 9-1-1 For emergency response
Call 211 to be connected to a community resource specialist who can put you in touch with local organizations that provide critical services that can improve—and save—lives.  
Call or text 988 to be connected with help and support during a mental health, substance use, or suicide crisis. 988 is available nationwide!
National crisis hotlines and online services: Put these numbers in your phone contact to use to help a friend in crisis!
National Suicide Prevention Lifeline: Call or text 9-8-8

The Trevor Project (LGBTQ Suicide Hotline): 1-866-488-7386

Trans Lifeline: 1-877-565-8860

Crisis Text Line: Text HOME to 741741

Crisis Text Line for Students of Color: Text STEVE to 741741
Will it cost me anything?
All services at Counseling Services or NCTC, including group therapy, individual therapy, consultation, on-campus presentations, etc., are completely free for Hood students. As part of our guided self-help program, we might recommend books or media that are available for your personal purchase. However, we'll always provide a free alternative. We cannot guarantee that any outside organization we refer you to will be without cost, but we also work collaboratively with you to find options that are mostly or totally covered by insurance or are low-or-no cost to you.
Why do I have to do a consultation? Why can't I just start therapy right away?
We get that the consultation might seem like an additional step, but it has a few really important goals designed to use your and our time efficiently. Our consultation is specifically designed to get the information we need (and only the information we need) to appropriately place you on our continuum of care. In contrast, during a typical therapy intake session, you spend an hour giving a detailed psychosocial history. If, after that session, it feels like you might be a better fit somewhere else, you'll get referred there, where you'll again be asked to give a detailed psychosocial history. While that information is very important, we know that repeatedly having to tell your story is frustrating and exhausting, and our goal is to put you in the environment most appropriate for you first so you only need to go through that history-taking process once.
What if I already know what kind of services I want (e.g., group, individual therapy, etc.?)
Great! Tell us about that and why you feel that would be the best fit for you. We'll likely have our own recommendation that we'll discuss with you, but our goal is to meet your needs. If you have strong feelings that a certain type of intervention would work best for you, we'll do our best to honor that so long as we don't have strong, legitimate concerns about your safety or well-being in a particular intervention.
I know individual therapy works, but I'm not so sure about some of these other options. Are they really effective?
Yes! Research indicates that self-help programs are effective in lessening severity of symptoms and teaching specific coping skills for clients with symptoms of depression and anxiety. Group counseling has been found to be very effective for clients with a wide range of concerns including depression, anxiety, trauma, substance abuse, grief, and many others.
Further, we'll be checking in with you periodically to make sure the interventions we're using are meeting your needs. If not, we'll reevaluate and try and place you somewhere on our continuum that is a better fit for you.
I heard that there was a limit on the amount of sessions per semester from Counseling Services. Is that true?
Nope! In years past, counseling services has used a six-to-eight session limit. We are not limiting sessions this year. Instead, we're emphasizing a short-term, solution-focused model of counseling. That means that we work to help you deal with your concern quickly. Sometimes that only takes one session, and sometimes it takes ten or twelve.
What if I already have a therapist, but want additional support?
In general, counselors try not to "duplicate care." For example, if you already are seeing a counselor individually, we won't recommend you see us individually also unless there are unique circumstances that require it. However, you might benefit from another option on our continuum of care, and if you're unsure, we're happy to talk with you about it during your consultation.
Will you share what I talk about during our work together with the College, my professors, my parents, or any other community partners?
In general, no. All of our counselors and counseling interns are confidential resources, which means that anything you tell us as part of our work together stays with us. We will not, without your express permission, even confirm or deny that you are seeking services with us. We take our obligation to keep your information confidential very seriously. There are a couple very specific exceptions to this policy, however, that require us to let somebody know:
If you disclose to us that you are an imminent danger to yourself or somebody else

If you disclose to us that you are or were the victim of, party to, or aware of the abuse of a child or vulnerable adult

If we are compelled by a legitimate court order to release information pertaining to our work together

If you give us written permission to disclose information to a specific other party
What if I have more questions?
Contact us at counselingservices@hood.edu or at (301) 696-3103. We'd be happy to talk with you!
Are you ready to say Hello?
Choose a Pathway
Information will vary based on program level. Select a path to find the information you're looking for!