John Slick
M.S.'22, LGPC, NCC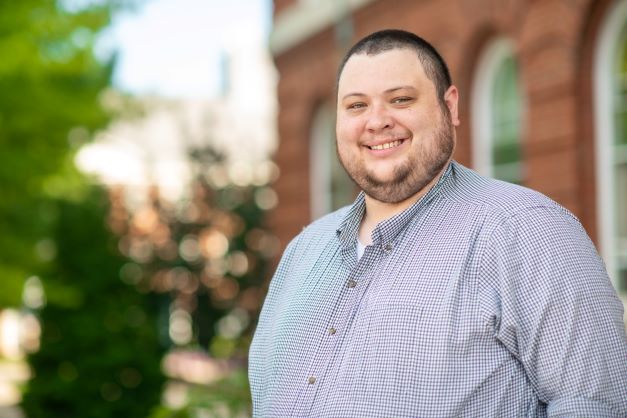 Office: Apple Resource Building 8A
Phone: 301-696-3103
Email: jslick@hood.edu
Hello! My name is John, and I am so glad you're here! I believe that people change and grow when they're able to find meaning and purpose in their lives, and I believe the best way I can help with that process is through an honest, supportive, and collaborative relationship. I am passionate about helping people become more authentic versions of themselves, and I hope that in our work together I can help support you while you find the version of you that you want to be! I am a Licensed Graduate Professional Counselor in the state of Maryland as well as a Nationally Certified Counselor. I hold a Master of Science in Counseling from Hood College and a Bachelor of Science in Psychology from Frostburg State University. During the 2021-2022 school year, I completed my clinical internship at Hood College Counseling Services, and I'm so excited to be back working with our wonderful students in a full-time role!
I'm looking forward to meeting you!
Licensed Graduate Professional Counselor (LGPC) in the state of Maryland (license no. LGP12892)
Nationally Certified Counselor (NCC)
Master of Science in Counseling from Hood College (May 2022)
Every counselor approaches working with clients a little differently. My goal is to work with you to develop an individualized plan to help get you to where you want to be, and so my counseling often adapts to suit each individual client. However, I do tend to gravitate towards a few theories of counseling:
Internal Family Systems: Internal Family Systems (IFS) counseling argues that we're all made up of a series of parts, and those parts work together to make up our internal "system." These parts are all benevolent and want to protect and help you, but sometimes they get confused and end up causing us problems instead. This can happen when a part takes on an extreme role, is unaware of the negative side effects its role has on the system, or continues to persist in a role that it no longer needs to fill. In addition to these parts, all of us have a "self" which has the power to modulate, manage, and integrate our various parts. IFS counselors work with clients to help identify and listen to parts, and then to teach clients how to relate to those parts using their self. When we do this, many problems, including depression, anxiety, suicidality, disordered eating, substance abuse, and others, tend to be resolved.
Person-Centered Counseling: Person-centered counselors believe that their clients already possess the resources and skills needed to be the best versions of themselves. Our goal is to collaborate with you to help you unlock those inner resources. To do this, we treat you with unconditional positive regard, are authentic with you, and provide empathic understanding.
Motivational Interviewing: Motivational Interviewing (MI) is a way of communicating that is collaborative and compassionate. It helps increase your likelihood to change through helping clarify your own reasons and motivations behind that change. In session, I ask you questions to help you find your "why" for change, and then we collaboratively plan steps to get you closer to that goal.
My office is located on the first floor of the Apple Resource Building, room 8A. In between sessions, I try to keep my door open, and I invite you to stop in and say hi!
Are you ready to say Hello?
Choose a Pathway
Information will vary based on program level. Select a path to find the information you're looking for!