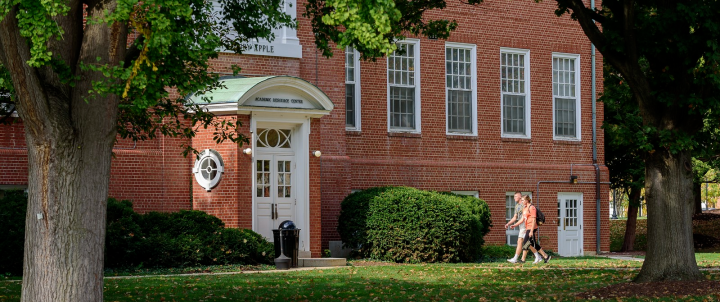 We offer a variety of options to best fit your needs. Are you interested in seeking services with us? Start here!
Your first step is to book a 15-minute consultation using our Client Portal, emailing counselingservices@hood.edu or calling (301) 696-3103. All new clients at Hood Counseling Services start with a consultation. During this time, you'll speak with a counselor in-person, via telephone, or virtually. The consultation is designed to answer four important questions:
What kind of help are you seeking?
What are your current resources or coping skills?
What level of care is most appropriate for you?
What is your availability?
Following the consultation, we'll suggest one of four options for you: guided self-help, group therapy, individual therapy, or referral to another community partner. This is a collaborative process, and we want to make sure we find the option that best fits you. To do that, we want to know about your wants, needs, and preferences. We'll then connect you with the appropriate option and help you schedule if appropriate.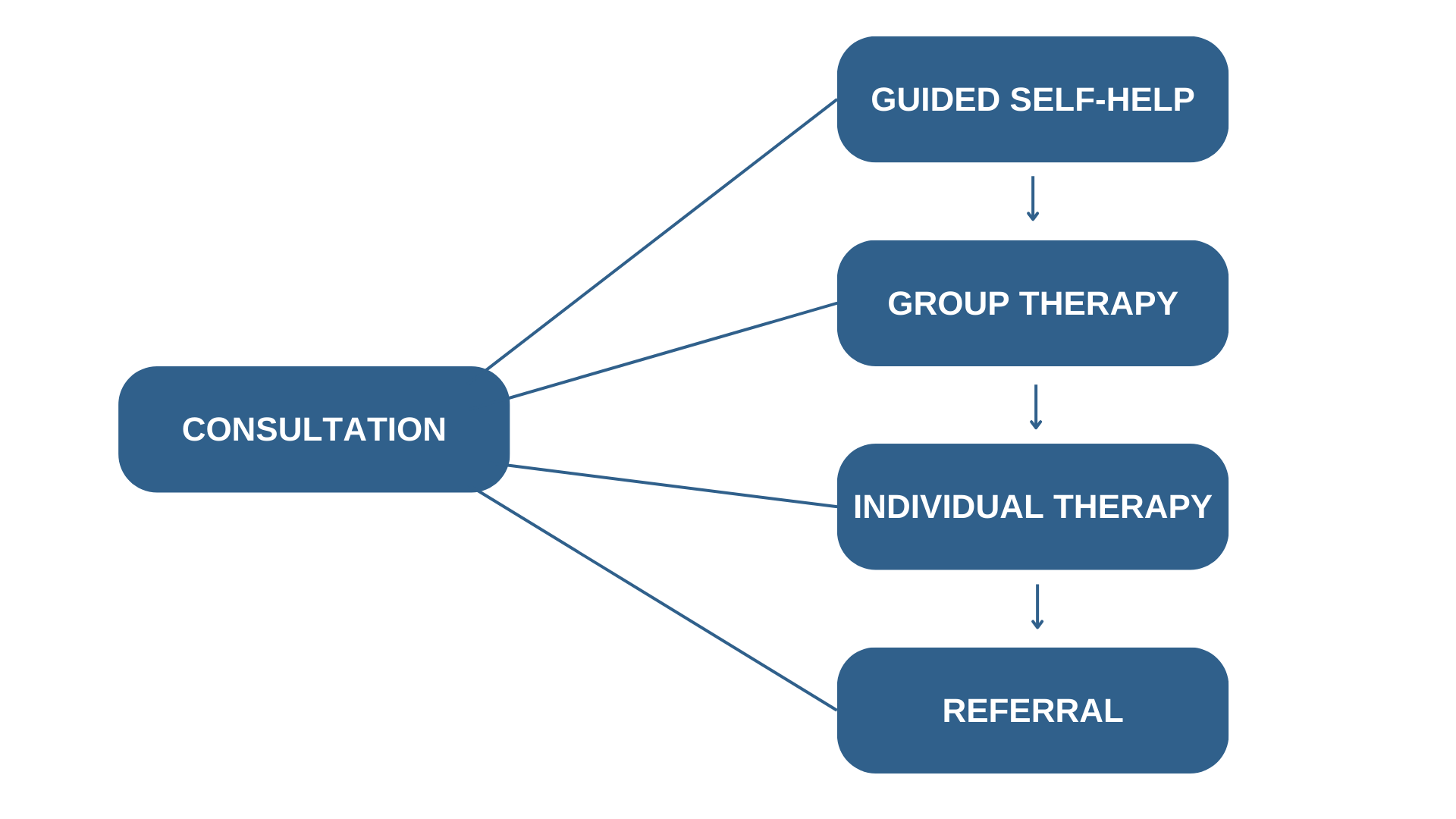 Learn more about each option on our continuum of care below!
Our Continuum of Care
Sometimes you need help finding resources that work for you. That's where we come in. Our guided self-help program connects you with resources such as websites, handouts, books, videos, podcasts, live on-campus or off-campus presentations, and other media that can help provide you with the tools you need to succeed. We consider your individual situation and come up with a personalized list of resources specifically designed to address the issues you're looking to work on. We'll remain in close contact throughout this process to evaluate whether the resources we've identified are working for you. If not, we'll work with you to recommend other resources or to connect you to a different treatment.
Groups provide an excellent opportunity to connect with others experiencing similar concerns. Our groups typically meet once per week for 45 minutes. We work hard to make sure that our groups are appropriately-sized and designed to meet your needs. All groups are facilitated by licensed counselors or pre-licensed counseling interns under supervisions and group members have access to these experienced providers. Some groups are very broad and general in focus (e.g., an open support group for all types of issues) and others are geared towards specific topics such as anxiety, depression, or grief.
Individual therapy is often a more time-intensive option that requires greater commitment from both client and counselor. In individual therapy, you'll meet one-on-one with a licensed counselor or pre-licensed counseling intern under supervision. Sessions are usually 50 minutes long, and you and your counselor will work together to find a frequency that works for you. Your counselor will help you create an individualized treatment plan designed to help you meet your goals, and you'll spend time in session working to get closer to the person you want to be. At Hood, students have two options for individual counseling:
Hood College Counseling Services (HCCS) is located in the Apple Resource Building Room 8A. At HCCS, you'll meet with a licensed counselor in-person or via telehealth between the hours of 9am-5pm, Monday-Friday during periods when classes are in session.
The NeighborHOOD Counseling Training Center (NCTC) is located on the bottom floor of Tatem Hall. At NCTC, you'll meet with a counseling intern in-person or via telehealth who is currently completed their required field experience in counseling. These interns are under the supervision of a fully licensed counselor. At NCTC, appointments are available between the hours of 4pm-8pm, Monday-Thursday. Learn more about NCTC at their website.
Sometimes, we're just not the best fit for you. When that happens, we work hard to connect you with somebody who can better serve your needs, either on-campus or off. We might choose to refer you for a variety of reasons, including:
Specialization: Perhaps you have a particular concern that would be best addressed by a specialist. We partner with several community organizations that specialize in issues such as substance abuse, dissociative disorders, and couple/relationship counseling, among others. Additionally, it might be that your concern would be better served by one of our other on-campus entities such as Accessibility Services, Student Success, Residence Life, etc. 
Acuity: Sometimes, your concern requires a higher level of care than we can provide. Whether you need an inpatient, intensive-outpatient, or partial hospitalization program, we can help connect you with an option that works for you.
Availability: Sometimes, the available appointments we have don't work with your schedule. When that happens, we can work to connect you with an organization that offers appointments that work better for you.
Are you ready to say Hello?
Choose a Pathway
Information will vary based on program level. Select a path to find the information you're looking for!