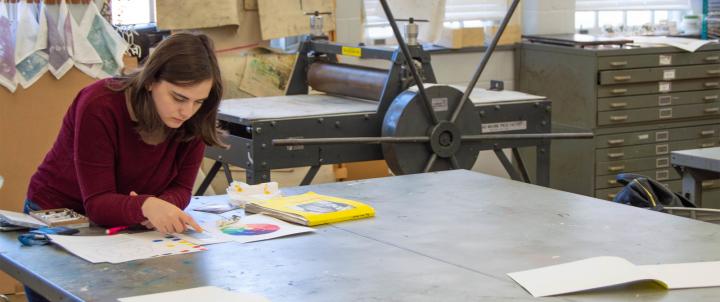 Our First-Year Seminars offer you the perfect jumping-off point for a successful college experience.
In a small class of no more than 15 students, you'll have the opportunity to work closely with your professor and your peers to develop your critical thinking, reading and communication abilities.
These writing-intensive courses will also help you build your 21st-century information literacy skills as you work with a variety of sources, ranging from popular web sites to scholarly journals. The topics of our seminars change from year to year to reflect the varied interests and expertise of the faculty who teach them, giving you a broad range of seminars to choose from.
All incoming first-year students are required to register for an FYS as part of the Foundation section of the Core Curriculum. All seminars will be held on Tuesdays and Thursdays, from 11:30 a.m. to 12:45 p.m.
HONORS (FYS 101-103H): Exploring Evil: Realities and Representations
Jay Harrison, Karen Hoffman and Trevor Dodman
This Honors team-taught interdisciplinary course uses artistic, philosophical, and literary perspectives to explore various realities and representations of evils in the modern world. It examines some of the ways that we use works of art, novels, documentaries, fictional films, and even museums, to tell the stories of some of the evils of the recent past and to consider the realities of their continued influence.
The Cyborg in Pop Culture and in Ourselves
Aaron Angello
Are human beings becoming cybernetic organisms? To answer this question, we will look at representations of the cyborg in literature, film, and other media, as well as in real-world examples of new technologies being coupled with human bodies in medicine, art, sports, and the military. We also will consider the impact of the technology we use everyday in our lives and on our bodies, and we will ask ourselves if we have, in fact, become cyborgs.
Developing Your Leadership Potential
Kathleen Bands
Have you often found that you have a passion for change and action? Would you like to explore what it means to be a successful leader? In this course, you will recognize your unique leadership potential and develop successful habits. Enjoy learning from interactive class activities, projects, discussions and opportunities to meet leaders from all walks of life! You will learn skills both to help you succeed in college and beyond and as a leader. 
Imitation and the Arts 
Martha Bari
Is artistic imitation a good or bad thing? After all, we celebrate artists in all fields for being original, and yet in music, dance, Hollywood movies, television, and the fine arts, imitation is accepted and thrives. In this seminar, we will explore the nature of artistic imitation versus authenticity by considering cover songs, forgeries, appropriations, mechanical reproductions, homages to other artists, and much more. This will lay the groundwork for your own inquiry into artistic imitation on a subject of your choice. 
McHistory: McDonalds and the Past, Present, and Future of Globalization 
Corey Campion
We are experiencing and shaping a unique moment in the human story. Products, such as McDonalds, Starbucks, and iPads, have gone global. Global challenges, such as climate change, continue to unite the world's communities in unprecedented ways. This seminar asks: what exactly are the consequences of this expanding globalization of contemporary society? To discover the answer, students first will scrutinize the past in order to find out when and how globalization began. Then they will turn their attention to the present and future in order to realize how globalization impacts the world.
Sports, Religion, and the Media
Alan Goldenbach
Why has prayer (and other religious gestures and statements) become such a conspicuous element of American sports? Why, as the cliché goes, is the sacred mixing with the profane? This seminar does not aim to decide the appropriateness of the sports-religion relationship, nor is it a quest to prove sports are a religion. Instead, this course will explore the factors that led to the state of the sports-religion relationship. We will discover how television has played a major role in this transformation, and how connecting sports to religion has spread from elite professionals all the way down to children in the schoolyard.
Teachers and Students in Pop Culture
Rebecca Grove
The iconic lyrics may claim "we don't need no education," but in reality, schooling is a huge part of our lives and our culture. From the incompetently aggressive Mr. Rooney being out-witted by Ferris Bueller to the passionate Mr. Keating and his dedicated students in Dead Poet's Society, popular media presents us with a range of teachers, students, and schools. In this course we will take a critical look at these portrayals in pop culture in order to analyze messages about American education, authority, social justice, and entertainment.
The Battle Over Free Speech: "Bong Hits for Jesus"
Janis Judson
What does the phrase "Bong Hits for Jesus" (taken from a real U.S. Supreme Court case) have to do with the First Amendment and the U.S. Constitution? This seminar will try to answer that very question by probing the tensions and paradoxes of First Amendment rights through literature, nonfiction, and case law analysis. Three free speech issues of particular interest to college undergraduates--freedom to publicly articulate opinions and beliefs, freedom to openly express oneself on social networking sites, and freedom from book censorship by restrictive curricular standards--will be our central focus in the course. 
Shaping Values Through Multicultural Children's Books
Ellen Koitz
Children's and adolescent books are crucial in shaping values and beliefs in our young. As America becomes more and more diverse, how is this being demonstrated in these stories and book illustrations?  Through biographies and children's historical and realistic fiction (such as Everybody Cooks Rice, Sadaka and the Paper Cranes, and Henry's Freedom Box), we will evaluate themes of acceptance of a multicultural America and how this shapes the way children are taught to see difference. 
Paranormal Activities: to Probe or Not to Probe
Shannon Kundey
Everyone has heard the lore about near-death experiences: tunnels, white lights, encounters with long-dead relatives appearing very much alive. Are these spiritual experiences or proof of life after death? Do they simply constitute chemical changes in the brain and sensory organs in the few moments before death occurs? Psychology seeks to explain human experience, including phenomena that at first may seem unusual or inexplicable. We will learn how psychologists handle claims falling outside the bounds of known science by reviewing evidence shaped by the standards of scientific method and psychological processes and pinpointing mechanisms thought to contribute to and underlie these strange phenomena.
Exploring Gender
Lisa Marcus
What is gender? When and how is gender assigned to each of us? Are there only two options? In this course, students will examine gender as a social construct through a study of gender identity, including transgender and gender-fluid identities. Our exploration will be based on popular culture, media, recent scientific research, autobiographies and fiction, as well as conversations with gender-fluid and transgender individuals from the local community. In their writing, students will examine gender identity, its definitions and its boundaries, to arrive at a critical analysis of the social construction of the masculine, the feminine, and everything in between.
Fairy Tales: Transformations and Transgressions
Heather Mitchell-Buck
Once upon a time, in the faraway land of Hood College, there was a course that explored the past, present, and future of fairy tales. The students embarking on this journey learned how these simple stories teach us who we are and how we fit into the world around us. They considered a wide variety of texts from the European tradition as well as other cultures, and discovered that these stories establish social hierarchies and define gender roles in ways that both reinforce and critique the status quo. Although this course cannot promise to end with a "happily ever after," students with a sense of curiosity and a commitment to discovery are assured an exciting and unexpected journey.
Climate Change and Culture
Scott Pincikowski
How do we think about climate change? Is there any way we can imagine an optimistic future? This course will tap into literature, film, music, and art (all part of the humanities) in order to approach this topic from a cultural angle rather than a purely scientific one to discover how and why these different art forms matter in the context of climate change. By the end of this course, you will have developed the necessary skills for thinking, writing, and speaking critically not only about these kinds of global changes, but also about the humanities.
How to be Human
Jenni Ross
What do we mean when we call ourselves human? Such a question forces us to confront our own assumptions about what qualities and capacities we share with animals while critically addressing human differences. Our point of departure in this course will be to recognize that there are many different interpretations of what makes us human, each dependent on different perspectives and approaches, whether through physical anthropology, biology, psychology, sociology, or the humanities. By exploring all these approaches, students will gain a rich and varied view of the nature and complexity of human beings.
From Voting Rights to #blacklivesmatter
Tamelyn Tucker-Worgs
Beginning with the Modern Civil Rights Movement and concluding with the phenomenon "Black Lives Matter, this seminar examines struggles for racial justice during the 20th-21stcenturies. We will examine the importance of electoral politics, mass-based protests and civil disobedience, cultural arts, popular culture, and the role of everyday people in enabling social change. Taking stock of where we are today, we will try to answer such questions as: Have we achieved Martin Luther King's "Beloved Community?" Are there still vestiges of Jim Crow in the 21stcentury? How have new media forms changed the way movements are organized? What pressing issues of equality and justice still must be addressed?
American Culture in 10 Albums
Noel Verzosa
In this course we will survey various episodes in American history and culture through the lens of ten albums (such as Elvis Presley's and the Ramones' first albums, Nirvana's Nevermind, and Beyoncé's Lemonade) released between approximately 1950 and the present. We will place these albums alongside artistic, historical, and social events, seeing how music served as a reflection of, and in some cases a catalyst for, trends in Western culture and art, as well as marking key watershed moments in America in the last seventy years.
Are you ready to say Hello?
Choose a Pathway
Information will vary based on program level. Select a path to find the information you're looking for!