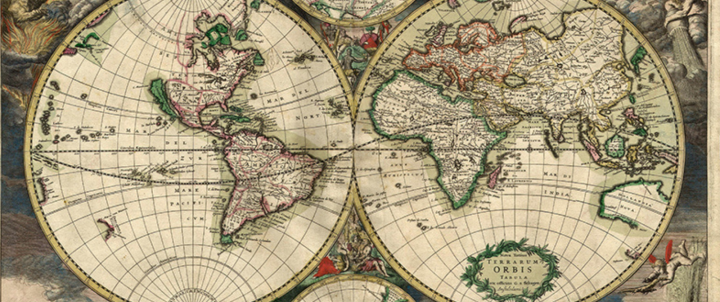 Programs
As a Hood student, you may study in virtually every part of the world. Hundreds of students have studied abroad in dozens of countries across six continents. Students recently have studied in Spain, Germany, Ireland, France, Italy, Argentina, England, Cyprus, Turkey, Russia, Australia, Mexico, Costa Rica, Morocco, Israel and South Korea.
Hood has formal associations with established international programs. In addition to experiential learning trips lead by your own Hood faculty, additional partner organizations include:
JYF Sweet Briar College (Paris): This program is designed for language students to study abroad in Paris or Nice through Sweet Briar College during their junior year. All courses are taught in French. Applications for the Spring 2019 semester are due October 15, for full academic year, March 15, 2019. 
CAPA Global Education Network: Offers programs in eight major cities around the world. Students can choose between short-term and long-term programs. Classes are taught in English, and in non-English speaking countries students have the option to study the local language. Application deadlines range between October 11 to November 25. Students should apply to the earliest deadline for his or her program.
CIEE: Offers a variety of programs to study in a wide range of foreign countries. Students can choose between short-term and long-term programs. Their mission statement is "to help people gain understanding, acquire knowledge, and develop skills for living in a globally interdependent and culturally diverse world." Most application deadlines are October 1.
CCIS Study Abroad: A study abroad consortium that offers programs throughout the world. Students can choose between short-term and long-term programs. Depending on the program, classes are either taught in English or in the target language of the host country. Application deadlines are typically in October and November for spring semester.
JYM (Munich): This program is designed for language students to study abroad in Munich, Germany in their junior year. Classes are taught in German. Spring semester applications are due October 1.
Semester at Sea: With the world as its classroom and more than 50 years of experience, Semester at Sea integrates multiple-country study, interdisciplinary coursework, and hands-on field experience for meaningful engagement in the global community. Over a 100-day voyage on a shipboard campus, students select academic courses drawn from 20 – 25 fields of study that are integrated with relevant field classes in up to a dozen countries. Rolling application deadline, meaning there are specific semesters. It is recommended that you begin the application process 12 months before the semester in which you would like to participate.
Seoul Women's University: Offers semester study as well as the Bahroom International Program (BIP) in the summer. Students interested in semester study should contact the Study Abroad Programs office. Applications for the BIP program for summer 2019 will be available in late fall and will be due February 1.  
Short-Term Programs
In addition to year-long or semester programs, Hood offers short-term courses throughout the world to explore history, language, culture, politics and natural environments.
Recent trips have included Belize (Animal Cognition), Germany (Berlin: Historical to Contemporary Issues), France (Memory and The First World War), Galapagos Islands (The Environment and Animal Cognition), and Scotland and England (Castles and Crowns).
Are you ready to say Hello?
Choose a Pathway
Information will vary based on program level. Select a path to find the information you're looking for!