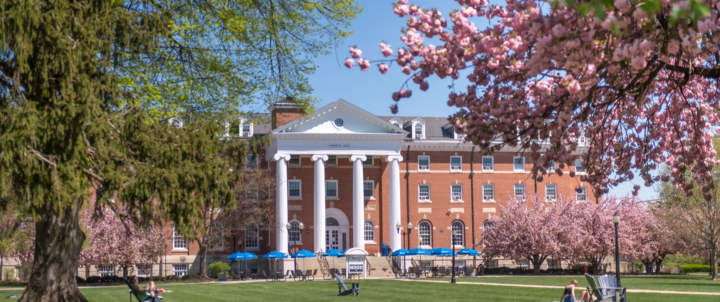 Congratulations on enrolling and committing to Hood College!
We are so excited you will be joining us in the fall. Please check this page often as it has important dates, documents and other valuable information that will update frequently. Go Blazers! 
Set up your Hood College email account so you can access Self Service and Blackboard. 
Check your Hood and personal e-mail (the one you used to submit your application) often. 
Submit your Enrollment Agreement Form. 
Submit your signed official financial award letter
All new students can take one Hood College summer course for FREE! See the courses offered and learn more NOW!
Connect with your advisor to register for courses. Your advisor will reach out to you through email after May 24.
If you are living on campus, fill out your housing agreement form through Self-Service.
Register for Summer Orientation, Advising and Registration (SOAR)
Submit your official SAT and ACT scores (for general reporting purposes only) to Admission.
Submit a request to all previously attended institutions to have your official transcript(s) sent to Hood before the start of the semester. These official transcripts should have your final course grades. This includes any college/university for Dual Enrollment courses. Failure to submit final transcripts will prevent future course registrations. 
Submit official AP/IB score reports to the college.
Fill out medical and immunization forms.
Attend fall Orientation beginning on Friday, August 18 (more details coming soon) - this is the official beginning of your time as a Hood Blazer. Congratulations!
Happening now: Complete placement tests - these are due before advising and registration.
May 15- New residential students can begin to complete housing form which is located in Self Service. 
July:  Financial aid is dispersed for those registered for 12 or more credits. 
July 8: Housing forms are due.
June 29, July 13, or July 20: First-Year students are encouraged to attend a SOAR summer session. Learn more and register. 
July 22: Residence life will begin to email housing information.
July 27: Transfer students are encouraged to attend the new transfer student SOAR summer session. Learn more and register. 
July 31:  Medical and immunization forms are due! 
August 18 (first-years) and 19 (transfers): 2023 New Student Orientation begins! You can find details here and more information will be shared in July and August.
What is self-service?
A website where you can complete several types of forms, get passes, register for classes, and see your transcript.
What is Blackboard?
Used for academic purposes. Here you can take placement tests and submit documents for the classes you are enrolled in.
What is a FERPA waiver?
Allows parents/guardians to access certain financial and academic information. 
What is the Enrollment Agreement form?
A signed document by the student acknowledging information from the application is true as well as allowing the student to be aware of disclosing any legal/disciplinary actions, obtain official transcripts, and a media release. 
What is the Financial Award Letter? 
A document signed by the student acknowledging the financial responsibility to the college each year - listing grants, scholarships, and loans if applicable.  
When do I get my bill?
Bills will generate in July, after the student has enrolled full-time (12 or more credits) and the financial award letter is signed so aid can be disbursed.
Are you ready to say Hello?
Choose a Pathway
Information will vary based on program level. Select a path to find the information you're looking for!