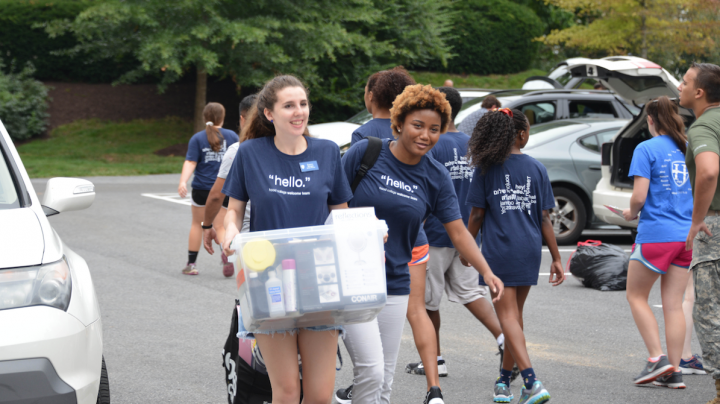 The fall semester is nearly here!  Classes begin Monday, August 17.
Click here for the College's COVID-19 information related to housing.
On July 24, all residential students will be emailed their housing assignment and roommate information. This email will include a link for your residence hall and floor to select a move-in appointment. This is to ensure we limit the number of students moving into each building and floor to promote social distancing for a safe arrival process.
As move in appointments will not be selected until late July, students needing to make flight arrangements for move-in may email residencelife@hood.edu to request to set up special arrangements.
Moving In
You are encouraged to talk with your roommate to decide what items will be shared (mini-fridge, etc.). Click here for a detailed suggested list of items to bring (and not bring).
Additionally, due to the COVID-19 pandemic, we strongly advise to pack light. Avoid bringing winter clothing until you return in January. Bringing fewer items means a shorter time for moving in, as well as moving out should there be a sudden need.

You'll need face masks and any additional personal protective equipment you may want for your safety.

We

recommend bringing hand sanitizer to have in your bedroom.

As much as possible, limit the number of family and friends who help you move in. It makes

it easier if you pack items in bags rather than boxes, when possible.

Dress comfortably, keep hydrated, and ask staff for needed assistance.

When unpacking after moving in, recycle cardboard and other recyclable materials outside the residence hall, keeping the hallways clear for important fire safety reasons.

Post your move-in day moments to social media with #HoodisHome20 and m

ake sure you're following Hood on social media for helpful tips and move-in day coverage.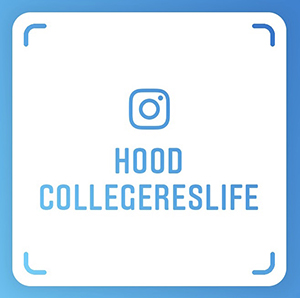 New transfer and first-year students will select a move-in appointment time on either (based on availability) Thursday, August 13 or Friday, August 14 during times ranging throughout the day.
Returning students will select a move-in appointment time on either (based on availability) Saturday, August 15 or Sunday, August 16 during times ranging throughout the day.
Local returning residents of all buildings with the exception of the new residence hall will be invited to select an appointment time on August 10, 11, or 12 to move in belongings and not remain in the room until they return on either Saturday or Sunday, August 15 or 16.
UPDATE:
Because only one person signed up for Aug. 11 and 12, those days are no longer available for drop and go move in. Only Monday, Aug. 10 is available for drop and go move in.
Because of pandemic restrictions impacting logistics and protocols, students may not request to arrive earlier than the appointment times available to them. Exceptions may be granted for those making flight arrangements facing travel challenges.
Note that at one time, fall athletes were slated to move in early. However, they are no longer moving in early and will need to adjust plans to the move-in appointment time they will select in late July.
Are you ready to say Hello?
Choose a Pathway
Information will vary based on program level. Select a path to find the information you're looking for!