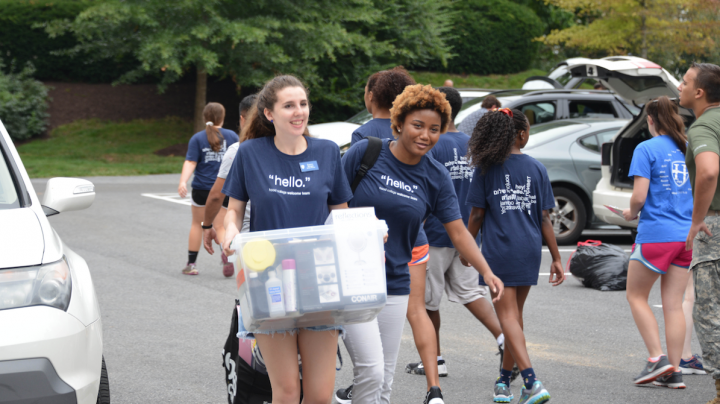 The fall semester is nearly here!  Classes begin Monday, August 26.
Move-In Tips
You are encouraged to talk with your roommate to decide what items will be shared (mini-fridge, etc.). Click here for a detailed suggested list of items to bring (and not bring).

It makes it easier if you pack items in bags rather than boxes, when possible.

When unpacking after moving in, recycle cardboard and other recyclable materials outside the residence hall, keeping the hallways clear for important fire safety reasons.

Dress comfortably, keep hydrated, and ask staff for needed assistance.

Post your move-in day moments to social media with #HoodisHome19 and m

ake sure you're following Hood on social media for helpful tips and move-in day coverage.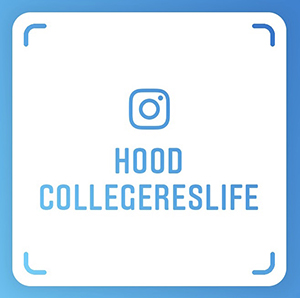 New first-year and transfer students move in between 9 a.m. and 11:30 a.m. on Thursday, Aug. 22, 2019. Move-in is staggered by assigned times to plan for a more efficient parking and unloading area near the buildings. Housing assignments with room numbers and times are emailed July 31. Due to construction on the new residence hall, it is important to plan to not arrive before your assigned time.
Please do not arrive earlier than this time. New student move-in is staggered to plan for a more efficient parking and unloading area near the buildings, especially given there is construction taking place on campus.
You and your helping family members and friends will arrive to campus from Rosemont Avenue onto Ferndale Avenue to briefly park in the Whitaker Campus Center parking lot. Click here for the College map. You and your family will go inside Whitaker to meet President Chapdelaine, and to take a picture with her and our mascot, Blaze. Your family can then enjoy refreshments while you (the student), with your photo ID card in hand, pick up your room key (and get your Hood student ID card if you did not previously get one).
You will then receive your New Student Orientation schedule, name badge, and other materials, and you will be able to ask any logistical questions. Next, you and your family will depart the Whitaker lot and follow signage and staff directions to park temporarily near your building to unload belongings. Once the vehicle is quickly unloaded, the car must be moved to a permanent parking lot so others may unload. A volunteer move in crew will be on hand to assist unloading and carrying your belongings to your room. So it is very important for your belongings to be packed up, sealed, and labeled with your name and most importantly, your building and room number.  In large lettering, write this information on boxes and securely attach a sheet of paper on bags and other items.
After moving in, you and your family members will get settled and then enjoy a complimentary lunch in the dining hall. After lunch, you and your new classmates will take a photo on the steps of the Chapel. Then at 1:45 p.m., you and your guests will attend the Orientation Kickoff for New Students and Families in the Ronald J. Volpe Athletic Center's BB&T Arena. Family members will say farewell between 2:15 and 2:45 p.m. so you can begin your four-day orientation before classes start on Monday.
Returning students may choose to move into their housing assignment on either Saturday, Aug. 24 or Sunday, Aug. 25, between 9 a.m. and 5 p.m. Students must plan to arrive before 5 p.m. to present a photo ID in order to pick up their key from Whitaker Campus Center switchboard. With key in-hand, students may then park near their residence to quickly unload belongings. Once unloaded, students and/or their helping families/friends must move vehicles to a parking lot, so others are able to unload.
Note: meal plans begin on Sunday, Aug. 25. Students moving in the day prior will be responsible for their meals.
A limited number of students are sponsored by Hood College departments to arrive to campus earlier than the above dates (such as international students and these fall student athletes: women's volleyball team, women's field hockey team, cross country teams, and soccer teams).
Students approved to move into their residence early will be notified of their approval and instructions at their Hood email account by July 31. Students moving in earlier than Aug. 24 are responsible for all meals unless their sponsor provides meals.
Understanding there are at times, a variety of circumstances which may warrant a student to be unable to move in on their designated day, we allow students to move in early by paying $30 per day. The earliest possible day to move in is Tuesday, August 20. The student is responsible for meals as the dining plan will not begin early. If you would like your student account charged $30 per day for early move in housing, click here to submit a form. This form is also for those wanting to be a part of the Move In Crew to help new students move into their rooms.
Important policies: Overnight guests are not permitted until Saturday, August 24. Alcohol is not permitted until first day of classes, Monday, August 26.
Students without permission to arrive early will be charged a daily housing charge of $50. Because of summer conferences/camps and various building renovations, some rooms may not be available for early move-in; in these extreme cases, staff may provide a temporary room during the early arrival period (and the student will be able to later move into their permanent assignment).
Are you ready to say Hello?
Choose a Pathway
Information will vary based on program level. Select a path to find the information you're looking for!