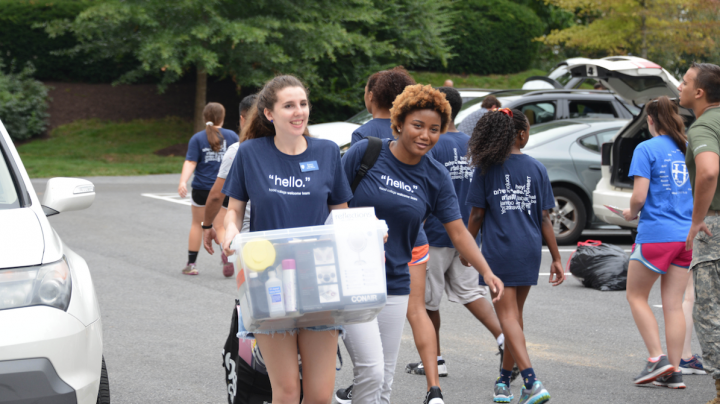 First-year students move in Friday, August 18th from 9am to 1pm
Transfer students move in Saturday, August 19th from 9am to 12pm
When arriving on campus, follow the directional signage to the Beneficial-Hodson Library and Learning Commons. Students will be dropped off to complete the check-in process in the Learning Commons.
Once you have successfully completed the check-in process, you will receive your room key. If you have any outstanding tasks with the Office of Financial Aid, the Office of Accounting, or the Office of Wellness these matters will need to be resolved before obtaining a key.  
After checking in, students will report to their assigned residence hall and unpack their belongings. Once the vehicle is quickly unloaded, the car must be moved to a permanent parking lot so others may unload. A volunteer move in crew will be on hand to assist unloading and carrying your belongings to your room. So it is very important for your belongings to be packed up, sealed, and labeled with your name and most importantly, your building and room number. In large lettering, write this information on boxes and securely attach a sheet of paper on bags and other items. Once unpacked, students are encouraged to participate in the welcome events happening on the quad. A list of activities will be provided in the orientation materials.  
Move-In Tips
If you have any questions or concerns regarding housing, please email the Office of Residence Life at residencelife@hood.edu. 
We look forward to seeing you soon!
Are you ready to say Hello?
Choose a Pathway
Information will vary based on program level. Select a path to find the information you're looking for!