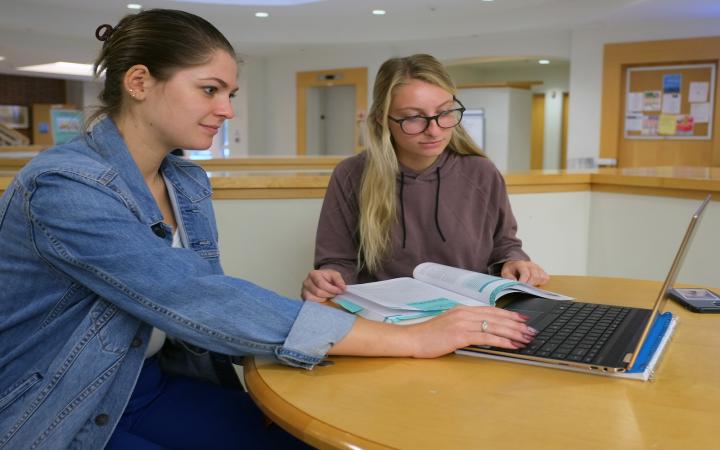 Hood College Federal School Code 002076
What Students and Families Need to Know
The financial aid staff are here to assist you and your family with the resources available to help finance your education. Anyone applying for financial aid must complete the Free Application for Federal Student Aid (FAFSA) and have a Social Security number on file with the College.*
How it Works
To qualify for scholarships and/or grants, you must be enrolled full-time with twelve (12) credits or more per semester. Part-time students taking at least six (6) credits may qualify for a Federal Direct Loan.
File your FAFSA as soon as possible. Students who will attend college in Fall 2024 will be able to file for aid in December 2023 (date TBD). Students eligible to file the FAFSA should do so no sooner than of the fall of the year before they plan to enter college. Applicants will use tax information from the previous year when reporting personal and family income. This means that you will use tax information from two years before the year you plan to start attending college.
The priority deadline for completing the FAFSA for Hood College is February 15. Applications submitted by the deadline are given first priority for institutional grants and/or endowment funding.
Maryland residents who may be eligible for state funding MUST complete the FAFSA no later than March 1. This deadline is strictly enforced by the State of Maryland and no exceptions can be made.
When completing the FAFSA, be sure to list Hood College on your application to ensure that the Financial Aid staff receives the information electronically. The Federal School Code for Hood College is 002076.
Free Application for Federal Student Aid (FAFSA)
Completing the FAFSA is essential for securing most types of financial aid for college. In addition to federal grants and loans, many states and scholarship programs use the form to access eligibility for their aid programs. Hood College also uses the FAFSA to determine eligibility for need-based aid.
If you miss the Feb. 15 priority date, you should still complete the FAFSA to take advantage of any additional resources that may be available for you. Do not hesitate to contact financial aid with any questions or concerns.
* The financial aid staff and any support office head shall ensure that the collection and use of the SSN is performed only when the functionality of the system is dependent on use of the SSN as an identifier. Employees authorized to collect information must be aware:
That individuals may not be denied any right, benefit, or privilege as a result of refusing to provide their Social Security number unless: 

The collection is authorized either by a statute; or
The Social Security numbers are required under statute or regulation adopted prior to 1975 to verify the identity of an individual; and

That individuals requested to provide their Social Security numbers must be informed of:

Whether providing the SSN is mandatory or voluntary;
Any statutory or regulatory authority that authorizes the collection of Social Security numbers; and
The uses that will be made of the numbers.
When should I complete the FAFSA?
File the FAFSA as soon as possible. The federal government awards roughly $150 billion annually to college students through need-based grants, loans and work-study funds. In addition to determining your eligibility for federal student aid, many states and Hood College use the FAFSA when distributing grants. Money is limited in some instances, so do not delay. If you file your application late, you run the risk of missing out on certain funds, such as work-study awards.
How does the financial aid work in conjunction with the admission application process?
Hood College admission applications may be submitted any time after August 1, with decisions made beginning in October. When students complete their FAFSA, a financial award package can be included in the welcome packet sent to students who are offered admission.
When is the Hood College admission application deadline?
The Hood College Office of Admission reviews applications on a rolling basis beginning in October. Admission decisions will be sent within two weeks of a completed application file.
When will I learn my financial aid eligibility?
Hood College will provide financial award packages with admission packets if the FAFSA has been completed at the time of admission. If the FAFSA is completed after a student's acceptance to Hood, financial aid packets will be sent as soon as they are complete.
For more information on admissions, click here.
Are you ready to say Hello?
Choose a Pathway
Information will vary based on program level. Select a path to find the information you're looking for!