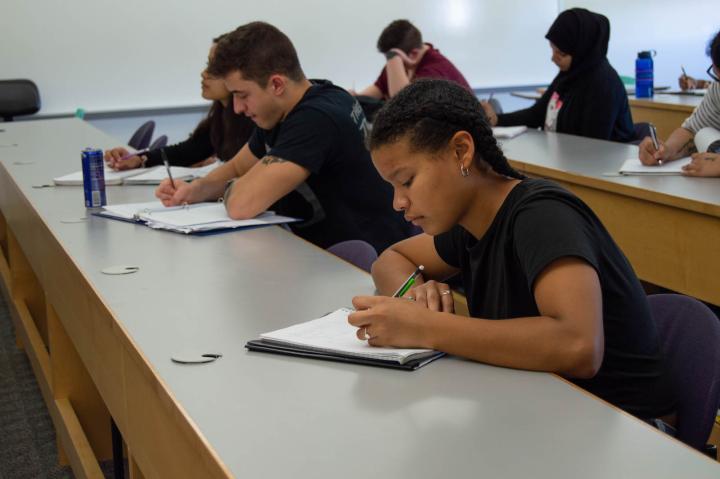 First-Year Student Scholarships
Hood College's merit scholarship program recognizes the achievement, talent and potential of students. Awards are based upon their achievement in the classroom, their ability to think analytically, their talent and creativity within their areas of interest and the potential for success they bring Hood College.
All students applying for admission to Hood College will be considered for these scholarships. No special application is required. Students will be informed of their eligibility through the admission application process.
The dollar amount of the top three merit scholarship tiers is based on a percent of tuition (not including fees, room or board) rather than a set dollar amount. The actual dollar amount of these scholarships will change annually based upon the tuition. For more information on the scholarship qualifications, please contact the Office of Admission.
This scholarship structure is in effect for students entering Hood College beginning in the fall 2022 semester. If you are interested in applying for the spring 2023 semester, please contact the Office of Admission at admission@hood.edu to discuss scholarship options.
Founders' Scholarship     One-half of tuition     $21,900*
Trailblazer Scholarship    One-third of tuition    $14,600*
Recognition Award          One-quarter of tuition $10,950*
*Based on 2022-2023 Academic Year Tuition
The following institutional awards may be awarded in addition to the above merit scholarships.
BOA Leadership (amount varies) Awarded to high-achieving students who have taken active leadership roles in their high school, community and/or region.
Hodson-Gilliam (amount varies) Awarded to high-achieving students of color.
Honors ($2,000) Awarded to students who have been admitted to the Hood College Honors Program.
Legacy ($1,000) Awarded to full-time students whose parent, sibling or grandparent received a Hood bachelor's or master's degree. 
Scholarships are awarded to new students and are renewable throughout the student's undergraduate career (scholarship may be received for a maximum of eight semesters). Students must achieve the minimum semester grade point average for their scholarship tier, maintain satisfactory academic progress toward their degree and be enrolled full-time. Students whose grade point average drops below the required minimum will receive a warning. Two consecutive semesters below the minimum grade point average will result in a reduction to or elimination of the award. Students with reduced or eliminated scholarships may recover the original award amount by achieving the required semester grade point average.
Are you ready to say Hello?
Choose a Pathway
Information will vary based on program level. Select a path to find the information you're looking for!