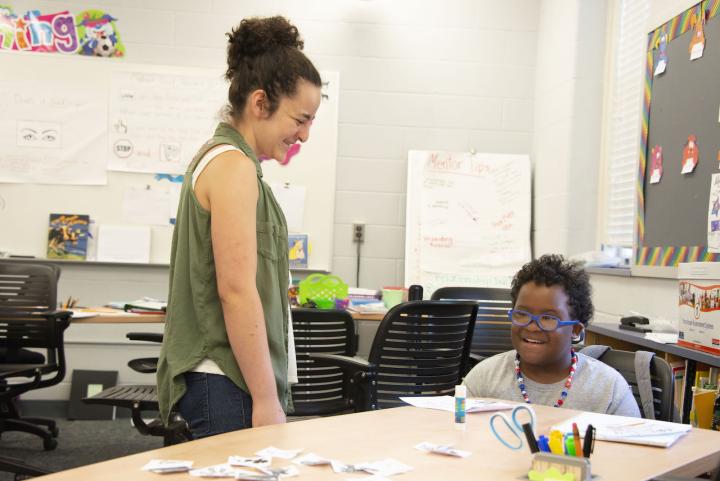 Frederick County Public Schools (FCPS)
Hood's partner school district, Frederick County Public Schools (FCPS), comprises 66 schools—10 high, 13 middle and 37 elementary schools, with more than 41,000 students enrolled. The student body is diverse, matriculating from a mix of rural, suburban and more urbanized communities. The school system serves students with varying needs, including students who receive special education services, English language learners instruction, and free and/or reduced meal services. Secondary Professional Development Schools (PDS) are an integral aspect of the partnership agreement between Hood and FCPS. Hood College's PDS are Governor Thomas Johnson HS, Governor Thomas Johnson MS, Monocacy MS, Urbana HS, Windsor Knolls MS, Walkersville HS and Walkersville MS. Hood students alternate between middle and high schools, giving them experience with different levels, curriculum and demographics to prepare them to teach in all environments.
Frederick Community College (FCC)
Frederick Community College (FCC) is accredited by the Middle States Commission on Higher Education. More than 16,000 students take courses at FCC in one of its 85 degree and certificate programs or in its workforce training and continuing education opportunities. Since FCC is an official partner to Hood for this project, a transfer student from FCC will be given priority for at least one scholarship in each cohort. Hood will actively recruit FCC transfer students by providing educational opportunity events for FCC students interested in secondary education, especially for those in STEM fields and those interested in working in high-needs schools. At least once a semester, one of these events will be held at FCC, and events at Hood will be open to and promoted to FCC students. This will include the opportunity for FCC students and faculty to interact with Hood faculty. Hood faculty will present general-audience talks about introductory biology, chemistry, mathematics, computer science and education courses. These will focus on topics of current research interest in their respective fields and will provide information about transferring to Hood and about the Noyce program. Hood faculty and staff will be available to present and answer questions at FCC events such as Student Success Days, Transfer Fairs and other events.

The Hood Noyce STEM Teacher Education Partnership (NSTEP) program is funded by the National Science Foundation's Robert Noyce Teacher Scholarship Program (DUE 1660640). For more information on Hood's NSTEP Program, contact us at nstep@hood.edu.
Are you ready to say Hello?
Choose a Pathway
Information will vary based on program level. Select a path to find the information you're looking for!