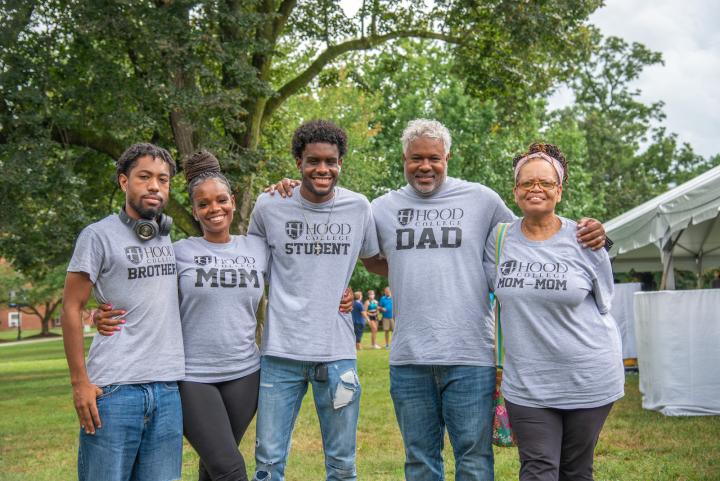 2023-2024 Academic Year
Full-time Student Cost per Academic Year
The cost of attendance (COA) is the estimated total cost for attending college for one year. It includes tuition and fees, room, board, books and supplies, personal expenses and travel expenses. The financial aid office estimates that cost of attendance for an incoming, typical resident, commuter or student who lives at home to attend Hood College for the 2022-23 year as follows:
 
Living on campus
Living with Relatives
Living Off Campus**
Tuition (12-18.5 credit hours)
$45,120
$45,120
$45,120
Comprehensive fee
$750
$750
$750
Room

Shared $6,900

Single $7,980

Semi-Suite $9,010

Suite $9,650

$1,886*
$7,542*
Board

All Access $7350

10-Meal $6,590

$2,322*

Commuter Meal Plan $2,030 (Optional)

$6,840*

Commuter Meal Plan $2,030 (Optional)

Books and supplies
$1,430
$1,430
$1,430
Transportation
$1,736
$1,778
$1,880
Personal expenses and misc. fees
$1,856
$572
$1,856
*Room and board charges are billed by Hood College only for students living on campus. Room and board costs for students living with relatives and students living off campus are provided as an estimate for families to calculate college expenses.
**This category is for independent students or dependent students who do not live on campus or with a relative.
For a variety of reasons, the actual cost for any given student might differ from these standard budgets. Most notably, students who live in an off-campus apartment (without their parents) and independent students cannot receive more than the cost of attendance from any combination of institutional, federal, state or private funding source. This includes merit- and need-based aid as well as tuition benefits, ROTC awards and RA contracts.
The comprehensive fee covers student engagement, academic records processing. and technology or communications access.
If the amount you and your family must pay is more than you think your family can afford – do not panic! The process used to evaluate your eligibility for need-based aid is based on ordinary situations. Since individual circumstances vary, please talk to the financial aid staff about your situation. You may call us at 301-696-3411 or email finaid@hood.edu.
Tuition per Credit
General Cluster $500
Ceramics (C, M.A., MFA)
Humanities
Environmental Biology
Geographic Information Systems, GIS (C)
Interdisciplinary Studies in Human Behavior
Thanatology (C)
Humanities
Math Education (C, M.S.)
Curriculum & Instruction
Educational Leadership (C, M.S.)
Elementary STEM Education (C)
Reading Specialization
Business Cluster $650
Accounting (C)
Business Administration
Finance Management (C)
Organizational Management (C)
Counseling Cluster $745
Clinical Mental Health
School Counseling
Science Cluster $625
Computer Science
Cybersecurity (C)
Information Technology (IT)
Management of Information Systems (MIS)
Bioinformatics (C)
Bioinformatics
Doctoral Programs
Doctorate of Organizational Leadership $995
Doctorate of Business Administration $1,100
Fees
Non-doctoral (fall, spring) $135
Non-doctoral (Summer I and II) $75
Doctoral $580
Renewal Not Retirement (RNR) $100 per class
The cost of attendance for graduate students may vary. Tuition and fees are determined by the degree program and the number of enrolled credits per semester. For additional information, visit the accounting services page located under campus services.
Are you ready to say Hello?
Choose a Pathway
Information will vary based on program level. Select a path to find the information you're looking for!