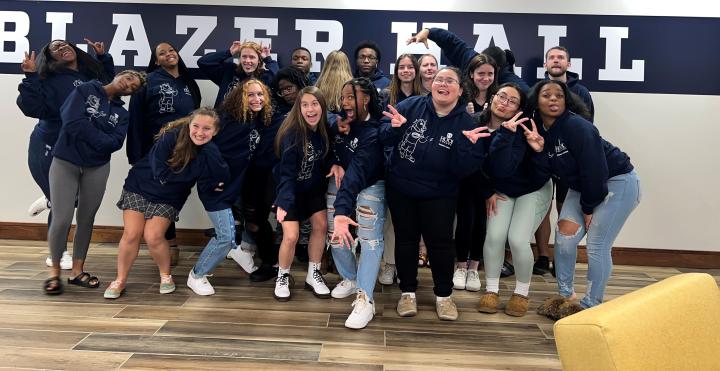 APPLICATIONS ARE NOW CLOSED
Will reopen in Fall 2023

Fully enrolled undergraduate student (12 credits minimum)

Established minimum GPA of a 2.5

No pending conduct cases or account holds

Must show a thorough understanding of confidentiality

Must live on campus if hired
Customer Service

Community Engagement

Peer Accountability

Conflict Resolution & Mediation

Return to campus before classes start for mandatory staff training every semester
FREE SINGLE ROOM for duration of employment

$1100.00 stipend for the academic year ($550/semester)
Information Session - learn more about the Resident Assistant position from the Office of Residence Life staff.
When: TBA
Time: TBA
Where: Blazer Hall Classroom 112

Mock Interview with Career Center - To prepare you for your individual interview if you decide to apply, it is important to have some practice and helpful feedback. To assist, although it is not mandatory, we highly recommend you complete a Mock interview with the Career Center.  
Your mock interview appointment will need to be between now and 24 hours before your scheduled interview. To schedule an appointment, complete the following:
Go to the Hood College website and click on "Campus Community"

Click on "Career Center" and scroll to the middle of the Career Center page, find Handshake, and click on "Click here to get started!"

Click the "Sign-In with your e-mail."  Sign-in with the credentials you would use for your e-mail and blackboard access.

At the top right corner, click on "Career Center."

Within the drop-down selection, click "Appointments" and then "Schedule A New Appointment."

Choose the category titled "Interview Preparation and/or Mock Interview."

Choose the category again, titled "Interview Preparation and/or Mock Interview"

Find the date and time that works best for you! You will receive an e-mail confirmation when your appointment has been approved.  If you do not see a time that works for your schedule, or have any additional questions, e-mail Bre Harwood, harwood@hood.edu.
APPLICATION
To apply, select the link below & email an updated resume' to worsley@hood.edu.
Interviews - If your application qualifies, you can expect an email no later than Thursday, February 9, 2023, to schedule your interview. Interviews will take place between February 13, 2023 - February 28, 2023 & be conducted by Residence Life staff members via TEAMS or ZOOM video.
Business casual dress is required
Are you ready to say Hello?
Choose a Pathway
Information will vary based on program level. Select a path to find the information you're looking for!