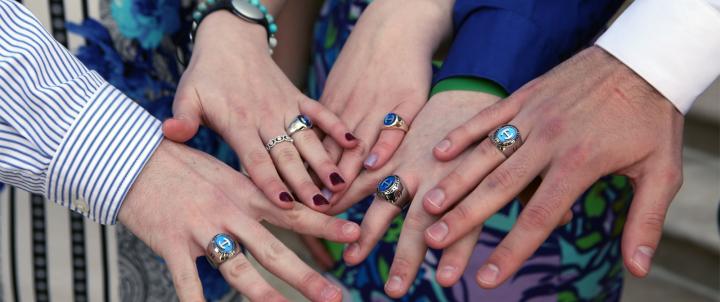 If you would like to purchase a Hood ring, orders may be arranged through Herff Jones or at the Hood College Bookstore in the Whitaker Campus Center at 301-696-3480. 
Legacy and Ring Scholarship Program
The program was created through the generous support of Hood alumni to assist qualifying Hood juniors with a Hood ring. Every year, junior students may apply for a legacy ring and/or ring scholarship. Students are awarded a legacy ring or scholarship based on exceptional essays on what the significance of the Hood ring and the importance of the ring tradition means to each of them, and other criteria submitted in the ring applications. The Hood College ring committee is honored to award deserving students with legacy rings and scholarships each year.
Legacy rings are made possible through donations from our compassionate Hood alumni. Every year, students who are awarded a legacy are matched with a ring donated by alumni. Our students are honored to wear these special rings with various class year engravings. This program is a special way the Office of Alumni and Constituent Engagement carries on the heritage of Hood College and the Hood ring.  
In addition, ring scholarships are awarded to Hood students every year. Students are awarded a full scholarship to purchase a Hood ring. The scholarships would not be possible without contributions to the ring scholarship fund from generous Hood alumni and friends. 
Students who are awarded a scholarship or legacy ring will receive their rings at the annual ring ceremony during the spring semester.
If you have questions or would like to donate a legacy ring or contribute to the scholarship fund, please contact the Office of Alumni and Constituent Engagement at 301-696-3900 or send an email to alumoffice@hood.edu. 
The Office of Alumni and Constituent Engagement would like to thank those who have contributed to the ring scholarship and legacy ring program. 
Are you ready to say Hello?
Choose a Pathway
Information will vary based on program level. Select a path to find the information you're looking for!