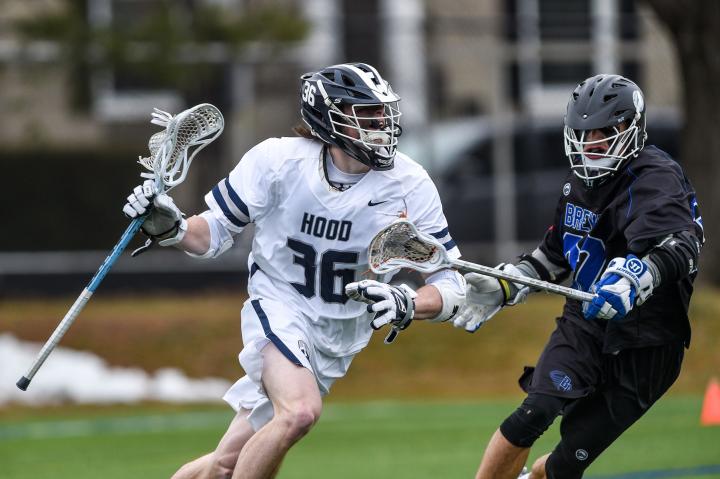 The Blue & Grey Club provides vital resources for our athletic program, offsetting costs and allowing the department to focus on areas of most immediate need.
Becoming a member of The Blue & Grey Club allows you to directly impact the experience that our student athletes have while at Hood. Over the last year, we have helped to provide vital resources for our athletic program. These resources have made it possible for our program of 23 intercollegiate sports and one club sport to continue practicing while ensuring the health and safety of our community.
The Blue & Grey Club proudly supports:
Baseball
Basketball, men's and women's

Cross Country, men's and women's

Equestrian (club sport)

Esports

Field Hockey

Golf, men's and women's

Lacrosse, men's and women's

Soccer, men's and women's

Softball

Swimming, men's and women's

Tennis, men's and women's

Indoor Track and Field, men's and women's

Outdoor Track and Field, men's and women's

Volleyball, men's and women's
Join The Blue & Grey Club Today
Contact
Niccole Rolls
Director of Annual Giving
301-696-3717
rolls@hood.edu
Champions' Circle ($2,000 and above)
Angela and Bruce Almquist P'24
Randy L. Cohen
Mark E. Friis M.A.'82
Hampton Inn & Suites Frederick-Fort Detrick
Dorianna Colon Rice '88 and Kent Rice
Coaches' Club ($500 - $1,999)
Sherri Smith Baggett '81
Marj Menchey Berkheimer '70, P'19, G'22 and Philip A. Berkheimer G'22
Joy Miller Beveridge '82 and Donald R. Beveridge
Andrea E. Chapdelaine and David Tetreault
Susan E. Edmiston '87
Robert G. Hooper
Harrison McAlpine Jr. W'51
Carla M. Merritt '86
Katherine Maguire Rafferty '48
Marcy Goldberg Taylor '81, MBA'00
Deborah Eaton Thackston '79, P'11, P'20
Stacey A. Zeno '99, MBA'18
Team Captain ($100 - $499)
Andrea K. and Mark E. Alexander P'23
Marcie J. Alling '75
Brigid L. Ayer '15, MBA'18
Deatley and Samuel Barish
Terry M. Burdette
Terri Petrillo Connolly '66
Kay and Thomas E. Dickman
David M. Dinges P'22
Darnell W. Edmonds '07
Joy Gaddy '78
Susan J. Gearey '79
Tammy and Sean Gerow P'24
Kathie Jackovitz Harrington '79 and Phillip J. Harrington
Dawn and Chris Hetzel P'24
JoAnn and Michael Hevey P'22
Teresa and Michael Hogan P'24
Christina and Justin Jenkins P'24
Janet M. and Carmel G. Kelly P'21
Anne Garber Ketchum '69
Deborah K. and Rudi B. Kolb
Dayna L. and Albert K. Lane III P'13
Sherry A. and Benjamin M. Lyons P'22
Amy Kaufman MacLeod '08, MBA'11 and Andrew J. MacLeod
Julie M. and R. Barry McNeill P'09, P'14
Melanie L. Muscar '04, MBA'07, M.A.'18
Cynthia Newby '67
Janet Spaulding Nunn '61, P'06
Pamela Frank O'Brien '80
Natalie M. and Charles R. Pollard P'24
Lynn and Fred Schumacher
Jewel K. Smith '96
Donna and John H. Tisdale
Elise Blatchford Twyman '84
Maricarmen Vendrell-Henson and Jesus Henson P'22
Phillip A. Yerby '11
Kayla Knott Youngblood '17
Lisa A. Zaleski-Larsen '01
Blazers Fan (under $100)
Maribeth B. and Richard S. Anderson P'21
Heather L. and Andrew A. Beale P'23
Craig Brenner
Jennifer and Anthony Cautero P'23
Ivan K. Chavdarov '10, MBA'15, M.S.'19
Arlene P. and Mark E. Cronin P'23
Lisa and Jim DeProspero P'22
Chad W. Dickman
Julia M. Downing
Andrew T. Drum '16
Cashey and Erik Embree
Patricia J. Embree
Susan M. Ensel
Amy S. Falk '80
Laura B. Fox
Ellen and James Ganz P'17
Christopher Gibeau
Nancy E. Gillece '81
Josh Gilmore
Carla Jackson Hairston '90
Susan Korff Hammer '69
Travis W. Harrant '11
Kristina Coggins Heck '11
Alyson and Patrick Hurley P'20
Victoria M. Idoni '06
Emily L. Kahn '05
C. Alicia Kamen '07
Melissa A. Kelly '00, M.A.'03, C'03
Susan A. Kolb
Debra and Michael McDermott P'24
Shirley N. and Leif E. Olsen P'19
Maura M. Page M.A.'17, P'19, P'21 and Brian W. Page P'19, P'21
Michelle Chao Pearson '99
Jennifer and John Perkins P'23
Conor P. Prachar '12
MaryAnne A. and Kenneth J. Przywara P'23
Kenneth R. Putnam Jr.
Maira V. and William B. Rogers P'17
Negest Hayes Rucker '99
Jennifer A. and Robert M. Schiller P'24
Brooke D. Sensenig MBA'18
Carley Shannon
Malinda B. Small '81
Crystal L. Thompson '01
Sommer A. and Josh C. Upman P'23
Charlotte Volatile-Goebel '88
Emily Clayton von Allmen '80
Laurie A. Ward
Jennifer A. Weinel '11, P'24
Are you ready to say Hello?
Choose a Pathway
Information will vary based on program level. Select a path to find the information you're looking for!