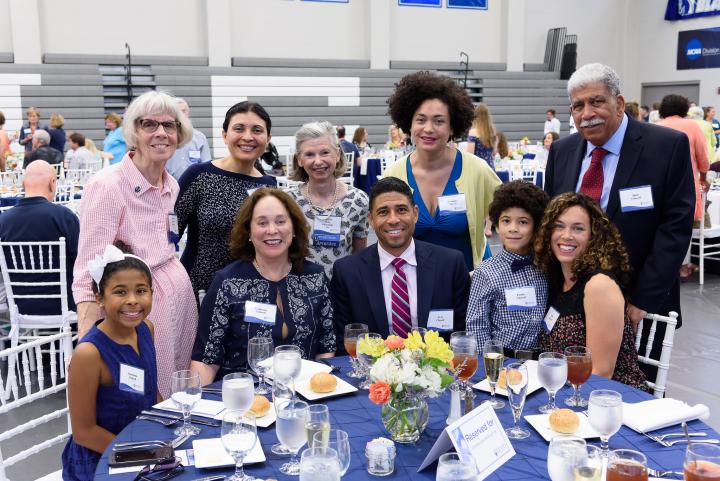 Hood alumni automatically become members of the association and are entitled to participate in various activities and enjoy special benefits. You will be invited to special alumni events including seminars, receptions, topics of current interest and other events. Even if you live far away and cannot often attend events or use the campus resources, there are many ways you can stay active in the life of the College.
Hood Magazine
All Hood alumni receive a free subscription to the Hood Magazine. The magazine's class news section provides the latest information about your classmates. Featured stories and profiles keep you informed about faculty members, administrators, students and other alumni. 
Reunion Weekend
The College hosts Reunion Weekend each year. While all alumni are invited to attend each year, classes are honored every five years. Social activities, athletic events, information forums and other programs are scheduled. 
Career Contacts and Assistance 
The Center for Career Development and Experiential Education is an invaluable resource to all alumni seeking career advice. 
Alumni of the Last Three Years (ALTY) Scholarship 

Recent Hood alums, who graduated in the last three years, are welcomed back to campus (or online) to pursue a graduate degree. ALTY scholars will benefit from the following: last three credits at no cost, undergraduate credits applied to master's degrees (based on major and grad degree), expedited admission decision for recent alumni, priority consideration for TA/GA positions, and more. To learn more about the ALTY program, email gofurther@hood.edu.  
Other Benefits
Repairing or ordering a new Hood College Ring through the Bookstore. 
Hood College Alumni Newsletter
Annual invitation to Homecoming and Fall Family Weekend
Lifetime access to student email address
Exclusive access to alumni travel program with our partner, AHI Travel
Discounted ticket offers on theme parks, hotels, concerts, movie tickets and more on ticketsatwork.com by using 

HoodAlum as the company code

Accessing Hood's Online Alumni Directory, a secure social and career networking site to keep in touch with classmates and to update your contact information
You may purchase a Blazer Brick to be installed in the Jeanne Zimmerman Gearey '52 Alumni Plaza and Blazer Brick Promenade!
Order Maryland state license plates imprinted with the Hood College name via the Office of Alumni and Constituent Engagement
Rent Coffman Chapel for your wedding through the Conference Services Office by calling 301-696-3711  
Attend campus lectures, exhibits and concerts 
For more information, contact the Office of Alumni and Constituent Engagement by calling 301-696-3900 or email us at alumoffice@hood.edu.
Are you ready to say Hello?
Choose a Pathway
Information will vary based on program level. Select a path to find the information you're looking for!