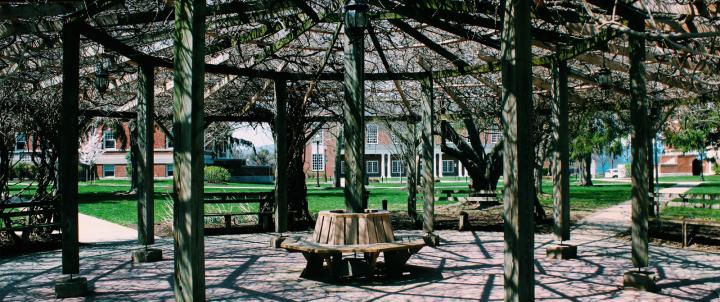 The Alumni Association, headed by the Alumni Executive Board, is made up of more than 20,000 College alumni, residing across the nation and in more than 50 foreign countries.
2023-24 Alumni Executive Board Leadership
Leah Giambarresi MacDonald '03, 

M.S.'10, C'05

, President


Investigational New Drug Application Manager

,

Leidos Biomedical Research, Inc.

Elaheh Eghbal '13, M '21, C'21, Alumni & Student Engagement Chair


Hubspot Marketing Automation Specialist, MITRE Corporation

Keisha Sykes Polk '97, Career Center Services Chair


Senior VP, Head of Conduct Management Governance

Joy Miller Beveridge '82, Community & Civic Engagement Co-Chair


Director of General Operations, Clinical Monitoring Research Program, Leidos Biomedical Research, Inc. (retired)
Trish

Crowell '04, M'08, Hood Legacy Ring & Scholarship Chair


Biology Teacher, Frederick County Public Schools
Lisa Wells '09, Community & Civic Engagement Co-Chair
Night Supervisor, Wawa
2023-24 Chair of the Board Student Representatives
2023-24 Alumni Executive Board Members 
Jacki Resop Amato '95: Administrative Assistant

,

Rocchi Construction, Inc.
Ashley Rose Bennett '14: Social Work Care Manager, Meritus Health
Victoria Benson '04: English Teacher, Linganore High School
RaeAnn Butler '89: Administrator and President, Edenton Retirement Community

Melinda Cohen Donegan '93:

Senior Account Manager, Manning Media, Inc.
Breann Harwood '16: Assistant Director, Student Engagement/Orientation, Hood College
Carole King Heine '84: Director of Customer Success, Yakabod
Victoria Idoni '06: Media Planner, Finders Consulting Group
Spencer Knoll '13: Director of U.S. Policy and Advocacy, Malaria No More

Melanie Muscar

'04, MBA'07, M.A.'18

: Foreign Affairs Officer, U.S. Department of State; Lieutenant Commander, U.S. Navy Reserves

Cheyenne Simmons '19: Life Sciences Accreditation Officer, A2LA
Stephanie Bulka Smith '03: Family Physician, Fort Meade Community Outpatient Clinic
Kristina Southwell '12: Attorney, Ahlers Cressman & Sleight
Liz Thompson '08: Writer/Editor, Mixed Mag; Doctoral Candidate, Hood College
Caylee Winpigler '21: Administrative Assistant, Ausherman Family Foundation; Graduate Student, American University
Are you ready to say Hello?
Choose a Pathway
Information will vary based on program level. Select a path to find the information you're looking for!