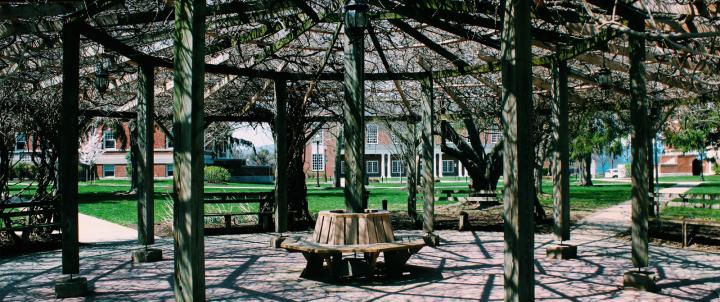 The Alumni Association, headed by the Alumni Executive Board, is made up of more than 20,000 College alumni, residing across the nation and in more than 50 foreign countries.
2022-23 Alumni Executive Board Leadership
Leah Giambarresi MacDonald '03, 

M.S.'10, C'05

, President


Investigational New Drug Application Manager

,

Leidos Biomedical Research, Inc.

Elaheh Eghbal '13, M '21, C'21, Alumni & Student Engagement Chair


Hubspot Marketing Automation Specialist, MITRE Corporation

Keisha Sykes Polk '97, Career Center Services Chair


Senior VP, Head of Conduct Management Governance

Joy Miller Beveridge '82, Community & Civic Engagement Co-Chair


Director of General Operations, Clinical Monitoring Research Program, Leidos Biomedical Research, Inc.
Trish

Crowell '04, M'08, Hood Legacy Ring & Scholarship Chair


Biology Teacher, Frederick County Public Schools
Lisa Wells '09, Community & Civic Engagement Co-Chair
Night Supervisor, Wawa
2022-23 Chair of the Board Student Representatives
2022-23 Alumni Executive Board Members 
Jacki Resop Amato '95
Administrative Assistant

,

Rocchi Construction, Inc.

Nicole Beller

'

12


Administrative Coordinator, Pando Alliance
Logan Samuels Bennett '17
Telecommunications and Spectrum Policy Analyst, Sev1 Tech

Victoria Benson '04

RaeAnn Butler '89
Administrator and President, Edenton Retirement Community

Barbara Puig

Carmichael '

91


Technical Subject Matter Expert, TISTA Science and Technology Corporation

Melinda Cohen Donegan '93


Senior Account Manager, Manning Media, Inc.

Darnell Edmonds '07


Field Marketing Manager, Woodford Reserve and Tequilas, Brown-Forman Corporation
Ian Eversull '19
Financial Advisor, Merrill Lynch
Elizabeth "Biz" Gorman Gomer '02, M.A.'08, C'07
Senior Associate Director of Admission, Hood College
Derrick Harrigan '07, MBA'14
Fiscal and Policy Analyst, Office of Management and Budget, Montgomery County Government
Carole King Heine '84
Director of Customer Success, Yakabod
Victoria Idoni '06
Evening Anchor, NewsNet
Spencer Knoll '13
Legislative Aide, U.S. Senator Chris Van Hollen

Melanie Muscar

'04, MBA'07, M.A.'18


Foreign Affairs Officer, U.S. Department of State; Lieutenant Commander, U.S. Navy Reserves

Cheyenne Simmons '19
Life Sciences Accreditation Officer, A2LA
Stephanie Bulka Smith '03
Family Physician, Fort Meade Community Outpatient Clinic
Kristina Southwell '12
Attorney, Ahlers Cressman & Sleight

Anna Maripuu Strollo '86


Retired Research Officer, International Monetary Fund
Liz Thompson '08
Writer/Editor, Advocacy & Politics, Mixed Mag
Caylee Winpigler '21
Administrative Assistant, Ausherman Family Foundation
Phill Yerby '11
Senior Manager, Client Experience, Weber Shandwick
Are you ready to say Hello?
Choose a Pathway
Information will vary based on program level. Select a path to find the information you're looking for!