The Hood College chain of office, which is specially created for each president's investiture, stands as a symbol of leadership, trust and honor.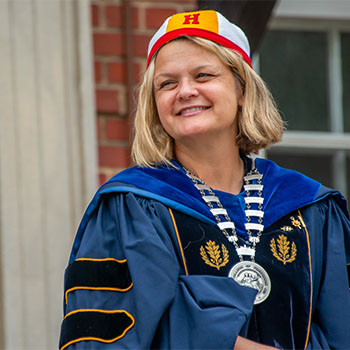 Historically, chains of office were ceremonial badges worn by high-ranking people during the Middle Ages of Europe. Today, they are metal necklaces worn by an academic institution's president on ceremonial occasions as part of his or her official regalia. The chain represents the trust and authority invested in the president by a school's governing body. The president of the College's Board of Trustees formally carries the chain in the inaugural procession and places it on the neck of the new president at the moment he or she is installed in office.
Hood's 10th president, Ronald J. Volpe, was the first in the College's history to receive a chain of office. A new chain of office designed for President Andrea Chapdelaine was presented to her during her Inauguration ceremony Oct. 17, 2015. The chain is used only on formal academic occasions, including Commencement, Convocation and presidential inaugurations, when participants are in full regalia. Both of the presidential chains were crafted by minting company Medallic Art.
President Chapdelaine's chain is made of silver-plated bronze. The frontal half is made up of ten curved plates that name the former presidents and the length of their respective tenures in office, alternating between the left and right sides of the chain. Beneath these plates are two leaf cluster motifs that connect to the lower portions of the chain and support the final plate and the College seal medallion. The final plate is topped by another leaf motif above the engraved name of current president, Andrea E. Chapdelaine.
Are you ready to say Hello?
Choose a Pathway
Information will vary based on program level. Select a path to find the information you're looking for!