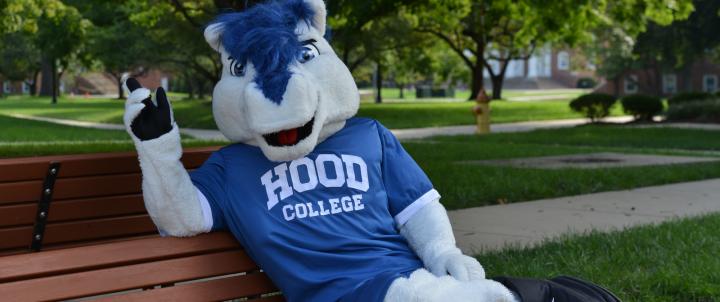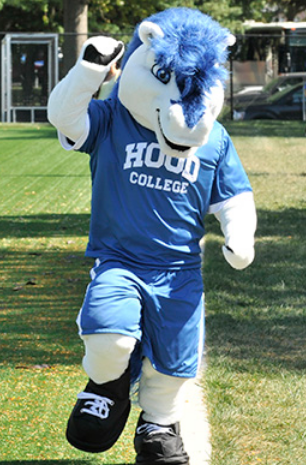 Hood's first-ever costumed mascot, Blaze, made its debut in a surprise flash mob performance at the end of the traditional Convocation ceremony in 2010.
Doug Raftery '12, Bilal Syed '11, Brittany Lethbridge '13 and the Student Athletic Advisory Committee spearheaded the mascot project. Street Characters Inc. of Canada designed the costume, based on the Hood Blazers logo, which was designed in 2005.
The mascot and the Blazers logo were intended to reflect Hood's history and tradition. The logo includes the graphical depiction of a horse's head, including a windswept mane and a white streak on its head, which on a horse is called a "blaze." The College's and the state of Maryland's long history with equestrianism also played a role in the selection of the mascot.
Blaze has two outfits—a Hood College sports jersey and shorts, and a blue slacks and white blazer outfit. The blazer was once part of the College tradition when white jackets, or blazers, were presented to exemplary student-athletes.
Blaze regularly makes appearances at athletic, campus and community events. To book Blaze, visit the Hood athletics webpage.
Are you ready to say Hello?
Choose a Pathway
Information will vary based on program level. Select a path to find the information you're looking for!