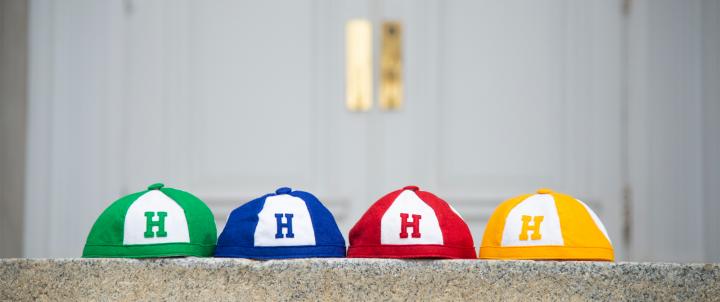 Dinks, or beanies presented to freshmen in their class color, are a long-standing tradition at Hood College and college campuses across the United States. Like Hood, most colleges used to require freshmen to wear dinks for a certain period of their first year, many times until a significant day for the college. The popularity of freshman dinks can be traced as far back as the 1910s, but their popularity seemed to have waned by the mid-1960s.
Before dinks were used at Hood, a tradition of freshmen wearing armbands with their names embroidered in their class color began around 1918. Freshmen were allowed to stop wearing the armbands after the Campus Day winning class was announced.
It is believed that dinks replaced the armbands as a way of identifying freshmen easily on Hood's campus and as part of their initiation into campus life in the early 1950s. Dinks may have had a presence on campus prior to 1951, but the first official mention of them is found in the Sept. 28, 1951 Blue and Grey student newspaper. The Blue and Grey newspaper and Touchstone yearbooks mention dinks sporadically from that period onward.
After Campus Day, the freshmen could cease wearing their dinks as the students were considered full-fledged members of the Hood Community.
Here are the dink colors for the respective classes: 
Green: Classes of 2015, 2019, 2023, 2027, 2031 and 2035
Blue: Classes of 2016, 2020, 2024, 2028, 2032 and 2036
Red: Classes of 2017, 2021, 2025, 2029, 2033 and 2037
Yellow: Classes of 2018, 2022, 2026, 2030, 2034 and 2038
Are you ready to say Hello?
Choose a Pathway
Information will vary based on program level. Select a path to find the information you're looking for!