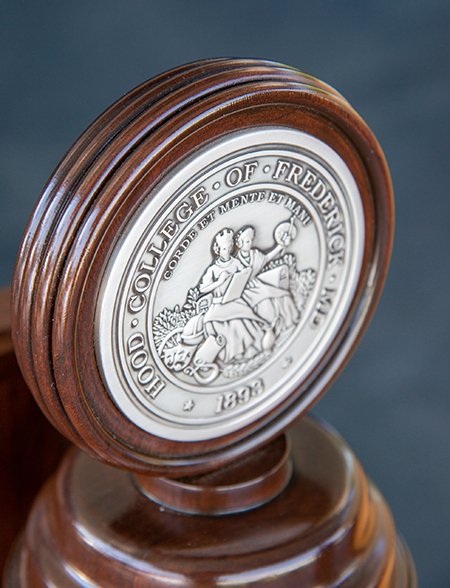 The Hood College mace, formally inaugurated at Convocation Aug. 24, 2015, stands as a symbol of academic leadership.
The origins of the mace can be traced to medieval times when knights carried them as weapons during processions with their kings. As the tradition grew, the mace became a symbol of authority and was often decorated with elaborate embellishments and gems. Today, an academic mace represents the authority invested in the president by a school's governing body. The mace is used only on formal academic occasions, including Commencement, Convocation and presidential inaugurations, when participants are in full regalia and the president is in attendance.
The Hood College mace, crafted by minting company Medallic Art, is the first in Hood's known history to be present at an academic ceremony. The mace was designed by a committee of Dave Diehl, MBA'04, P'12, former executive director of marketing and communications; Nancy Gillece '81, vice president for institutional advancement; Laura Lokey '16; Joyce Michaud, professor emerita; and Jan Samet-O'Leary, former director of the Beneficial-Hodson Library.
Carved from natural walnut and accented with silver-plated brass, the mace stands 42 inches tall. Topping the mace is the Hood College seal, reflective of Hood's mission and representative of all of the College's constituencies, sculptured in silver-plated bronze. The seal depicts a man and woman seated amid products of invention, industry, discovery, literature and art, and reads "Corde, et mente, et manu"—with heart and mind and hand; the heart to conceive, the mind to direct and the hand to execute.
The collar is surrounded by an inscription of the College's former and current names along with their dates of establishment. The Frederick Female Seminary, established in 1845, marked the beginnings of Hood College, when the Potomac Synod of the Reformed Church of the United States—now the United Church of Christ— purchased the financially struggling seminary in 1893. With buildings, teachers and students already in place, the Potomac Synod founded the Women's College of Frederick, which flourished almost immediately. Twenty years later, the Women's College was renamed Hood College in 1913 to honor its most generous benefactor, Margaret Scholl Hood, whose land donation allowed the school to move to its own campus where the College currently resides.
The staff features four metal banners, which represent Hood's Four Columns—Hope, Opportunity, Obligation and Democracy—which support the College's historic Alumnae Hall and define the spirit and principles of a Hood education.
Are you ready to say Hello?
Choose a Pathway
Information will vary based on program level. Select a path to find the information you're looking for!