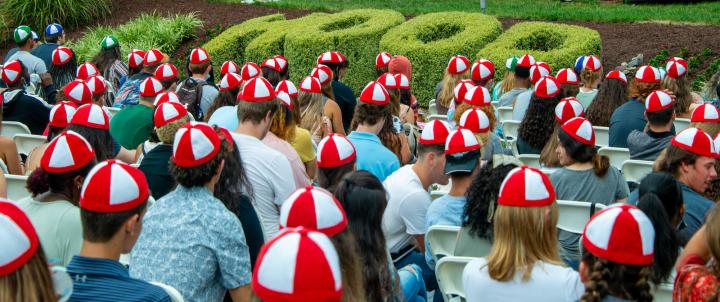 "Hello!" The Hood Hello—the custom of greeting people you pass on campus—is one of the many Hood traditions that make this place feel like home from the start. Hood's values and traditions pay homage to the College's past, welcome new students into the community and foster the kind of character that remains a hallmark of Hood's long and storied history. These values and traditions, practiced by students, faculty and staff on a daily basis, create a respectful and vibrant community and enduring memories.
A place of honor and respect
All members of the College assume the obligation to maintain the principles of honesty, responsibility and intellectual integrity in all activities relating to their Hood College experience. It is the responsibility of each student to support these values through maturity of thought, expression and action.
Academic honor code and pledge
Academic life at Hood is guided by an honor system, shared between faculty, administration and students. The basic aims of the honor system are to encourage and promote a trustful relationship among all members of the College community, to offer students the opportunity to exercise responsibilities and democratic rule on campus, and to make students more aware of their personal principles of honor. Students submit all academic work with the following statement: "I pledge that I have neither given nor received any unauthorized aid on this assignment."

Four columns
Immortalized in the alma mater as "columns so fair," the four Ionic white columns that support Hood's historic Alumnae Hall are named Hope, Opportunity, Obligation and Democracy—the first letters spelling HOOD—and they were dedicated by the Classes of 1915, 1916, 1917 and 1918. For many, they define the spirit and principles of a Hood education.

The Hood "Hello"
Hood's reputation for being a friendly place is well founded. Each community member has their own way of practicing the "hello," whether through a smile, wave, nod or "s'up," that adds to the warmth of Hood.

Pergola
When students walk through the Pergola—the open, wisteria-covered wooden structure in the very center of the residential quadrangle—they walk side-by-side and do not "split the poles," ensuring their friendships will continue after graduation. It's the spot on campus where all paths converge, representing unity and peace, and students are careful not to utter unkind words when they pass beneath its shady beams.

Motto
Hood's motto, Corde et Mente et Manu, means "Heart and Mind and Hand."
Alma Mater
Written by Gertrude B. Hoy, Class of 1912, the alma mater highlights the treasured aspects of Hood and the campus that students and alumni hold dear. It is sung on special occasions, including Convocation, Baccalaureate, Commencement and Reunion Weekend.
Dinks
First-year students are presented with beanies—known as dinks—in their class color. Dinks symbolize class unity, so Hood students sport them to foster community and to make a statement. 
The Hood Ring Ceremony
The Hood ring, which students begin wearing as juniors, symbolizes a bond between Hood alumni and students who will graduate in years to come. They're great conversation starters when students spot folks wearing Hood rings out in the world—which they often do, miles from campus. Juniors first don their Hood rings at a ring ceremony which is attended by family and friends. 
Class banners 
At the start of the academic year, new students are invited to decorate a banner and display it in the Whitaker Campus Center. Each year, all classes add a symbol or design that commemorates the year.
Convocation
The official start of the academic year, new students are welcomed by the Hood College President. The Student Government President also extends greetings, invites students to recite the Hood College Honor Code Pledge and emphasizes the community values pledge.
Margaret S. Hood Ball
Co-sponsored by the Office of Student Engagement and the First-Year Class Council, the Margaret Hood Ball is the first semi-formal social event of spring semester. Dressed in chique attire, First-Year students welcome all students and their guests to a fun evening and dance the night away.
Fall Family Weekend
Parents and family members come to campus for a weekend of special events, including faculty lectures; athletic events; theatrical, musical and dance performances; and other social activities for Hood families to meet and mingle.
Holiday dinner
The Student Government Association (SGA) hosts this festive event featuring tasty seasonal dishes, music and awards.
Late-night breakfast
The night before fall and spring final exams, faculty and staff serve up a sumptuous late-night breakfast to students in need of a study break.
Give Your Heart to Hood Day
During Give Your Heart to Hood Day, the campus community comes together and volunteers time and energy to projects that benefit the College. Flowers in the color of the graduating class are generally planted around the Pergola.
Liberation Weekend
Sponsored by the Black Student Union, this weekend of educational, cultural and social events attracts students and community members from the local and regional area. Highlights of the weekend include a guest speaker of national/regional recognition, panel presentations, workshops, cultural trivia, games and much more.
Spring Fest 
Hood's annual Spring Festival is an end-of-the year celebration of fun activities including a crab feast, music and dance performances, stress relief activities, and an outdoor festival complete with slip-and-slide and jousting, plus more! Co-sponsored by the Office of Student Engagement and the Campus Activities Board (CAB), Spring Fest is a collaborative event involving representatives from student clubs and organizations. Spring Fest is held the weekend before the last week of classes.
Baccalaureate
Graduating seniors are honored each year on the eve of Commencement at this event that includes a featured speaker, readings by students, music, class reflections and a traditional light ceremony in which a circle of seniors share candle flames with their classmates. They then pass the light to a member of the rising senior class.
Strawberry breakfast
The morning of Commencement, graduating seniors and their families prepare for the big event by chowing down on strawberries and ice cream.
Dinks, or beanies presented to new students in their class color, are a long-standing tradition at Hood College and college campuses across the United States. Like Hood, most colleges used to require freshmen to wear dinks for a certain period of their first year, many times until a significant day for the college. The popularity of freshman dinks can be traced as far back as the 1910s, but their popularity seemed to have waned by the mid-1960s.
Before dinks were used at Hood, a tradition of freshmen wearing armbands with their names embroidered in their class color began around 1918. Freshmen were allowed to stop wearing the armbands after the Campus Day winning class was announced.
It is believed that dinks replaced the armbands as a way of identifying freshmen easily on Hood's campus and as part of their initiation into campus life in the early 1950s. Dinks may have had a presence on campus prior to 1951, but the first official mention of them is found in the Sept. 28, 1951 Blue and Grey student newspaper. The Blue and Grey newspaper and Touchstone yearbooks mention dinks sporadically from that period onward.
After Campus Day, the freshmen could cease wearing their dinks as the students were considered full-fledged members of the Hood Community.
Today, new students are invited to participate in a "dinking" ceremony which includes a message from the President and "dinking" by Orientation Assistants (OAs).  New students are then escorted by OAs through the Pergola to the Outdoor Theater where they are officially welcomed at Convocation.
Here are the dink colors for the respective classes:
Green: Classes of 2019, 2023, 2027, 2031 and 2035
Blue: Classes of  2020 2024, 2028, 2032 and 2036
Red: Classes of 2021, 2025, 2029, 2033 and 2037
Yellow: Classes of 2022, 2026, 2030, 2034 and 2038
Are you ready to say Hello?
Choose a Pathway
Information will vary based on program level. Select a path to find the information you're looking for!