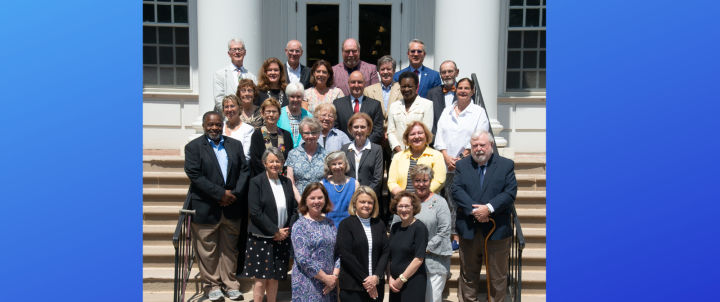 The Board of Trustees is responsible for developing and approving the College's mission, strategic goals and objectives, and establishing policies related to programs and services.
Journalist
New York, N.Y.
Retired, International Trade Specialist
U.S. Department of Commerce
Richmond, Va.
Technology Consultant
Naples, Fla
Retired Pathologist, Scientist, Medical Ethicist
Frederick, Md.
President
Fountain Rock Management Corp.

 


Frederick, Md.
Retired, Senior Vice President Population Health; Chief Medical Officer; VP Medical Affairs
Frederick Regional Health System


Frederick, Md.
Retired Operations Manager, Hewlett-Packard
McLean, Va.
Retired President and CEO
Rodgers Consulting, Inc.
Cary, NC
Comptroller
Advanced Behavioral Health, Inc.
Frederick, Md.
Retired, Regional Vice President, Northwest and Pacific Regions
Tiffany & Co.


San Francisco, Calif.
Entrepreneur and CEO
George Street Services, Inc.


Walkersville, Md.
Nutrition Consultant
Washington, D.C.
Retired Senior Vice President
Morgan Stanley Wealth Management
Frederick, Md.
President and CEO
Frederick Regional Health System


Middletown, Md.
Senior Associate Director of Development
Johns Hopkins University School of Education
Baltimore, Md.
Financial Advisor and Senior Vice President
Morgan Stanley


Frederick, Md.
Retired Executive Director
Canterbury Counseling Center
Greenville, S.C.
Vice President of the Department of Field Activities
Accreditation for Graduate Medical Education
Silver Spring

, Md.
Founder and President
Chestnut Hill Enterprises, Inc.
Roxbury, Conn.
Chief, Department of Clinical Research
Army Medical Research Institute of Infectious Diseases at Fort Detrick
Poolesville, Md.
Retired, Director of Human Resources and Network Administrator
Emmitsburg Glass Company


Frederick, Md.
Managing Director
riskinternational Risk Management


New Albany, Ohio
First Vice President-Investment Officer
Wells Fargo Advisors, LLC
Chevy Chase, Md.
Retired Frederick County Circuit Court Judge
Frederick, Md.
Chief People and Culture Officer
Pep Boys
Reigelsville, PA
Former Manager
Social Security Administration

Antiques Dealer and Active Volunteer
Baltimore, Md.
President and Trustee
Delaplaine Foundation, Inc.

Vice President
Great Southern Enterprises, Inc.

 


Smithsburg, Md.
Executive Assistant to the President
Secretary of the Board of Trustees & College
M. Richard Adams, P'09
Elaine H. Alexander '71
Linda J. Allan '70, M.S.'78
Carol Lumb Allen '59, J.D.
Martha Shortiss Allen '59
Philip A. Berkheimer, G'22
Gayle Hamilton Blakeslee '59
G. Hunter Bowers Jr., P'83
Amy K. Chan, J.D.
Janet Hobbs Cotton '59
Edward D. Del Giorno P'95
Cheryl Dreiling '69, H'13
Margery Lesser Elfin, Ph.D.
Barbara F. Flythe
Joan Esselen Foot '69 
Claire Fulenwider '64, Ph.D.
J. Brian Gaeng
Raymond V. Gilden, Ph.D.
Grace Hechinger, H'89
Charles W. Hoff III, P'92
Edith Howard Hogan '59, P'86
Ruth Whitaker Holmes, Ph.D., '55, H'93
Myra L. Holsinger '70
Robert G. Hooper 
Nancy Rogers Huntsinger '59
Kevin C. Jackson 
George E. Lewis Jr., DVM, Ph.D.
Lois Vars Mason '51
M. Jacqueline McCurdy '55, J.D.
Christine L. McHenry '73, M.D.
Janet Spaulding Nunn '61
J. Ray Ramsburg III '83, P'14
E. James Reinsch
Barbara Campbell Rickman '63, M.A.'75, P'96
Malinda B. Small '81 
Dolores H. Snyder
Christine Plankenhorn Tischer '65, P'86
Stephen C. Turner, P'94
Samuel R. Wells III
Susan L. Whaley '74, J.D.
Nora Truxal Wilson '53, P'79
Are you ready to say Hello?
Choose a Pathway
Information will vary based on program level. Select a path to find the information you're looking for!