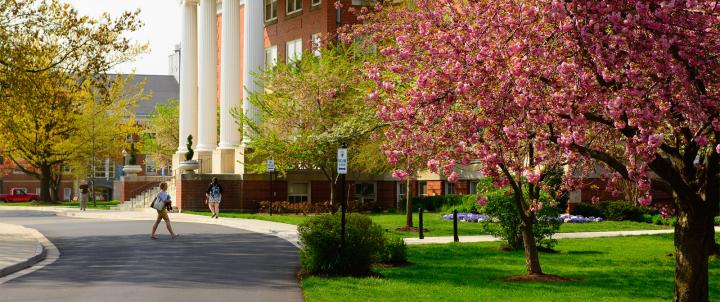 Mission
(Approved June 9, 2016 by the Hood College Board of Trustees)
Through an integration of the liberal arts and the professions, Hood College provides an education that empowers students to use their hearts, minds and hands to meet personal, professional and global challenges and to lead purposeful lives of responsibility, leadership, service and civic engagement.
Vision
Hood College is a premier, comprehensive liberal arts college, offering both undergraduate and graduate students an excellent and holistic educational experience that prepares them for personal and professional achievement and productive participation in society. Education at Hood reaches beyond boundaries, whether those boundaries be academic disciplines, the classroom or the campus. We thereby offer a holistic education that encompasses the curriculum, co-curricular experiences and a rich array of experiential learning opportunities facilitating student exploration and fostering intellectual, spiritual and physical growth. We recognize that this vision can only be realized in a diverse, collaborative, student-centered community in which all are empowered to be educators and mentors to our students, facilitating their preparation to "meet personal, professional and societal challenges and to lead purposeful lives of responsibility, leadership, service and civic engagement" (Hood College mission).
Core Values
Hope: To believe that everyone can have a positive impact in the world and that education is instrumental in creating and sustaining hope.
Opportunity: To fully use one's talents and skills to realize professional and personal achievement and to help create and realize opportunities for others.
Obligation: To fulfill personal and professional responsibilities with integrity and to be a responsible steward and servant to the betterment of others and this world.
Democracy: To embrace diversity, foster freedom of thought and expression, and to promote engaged citizenship both in self and others.
Are you ready to say Hello?
Choose a Pathway
Information will vary based on program level. Select a path to find the information you're looking for!