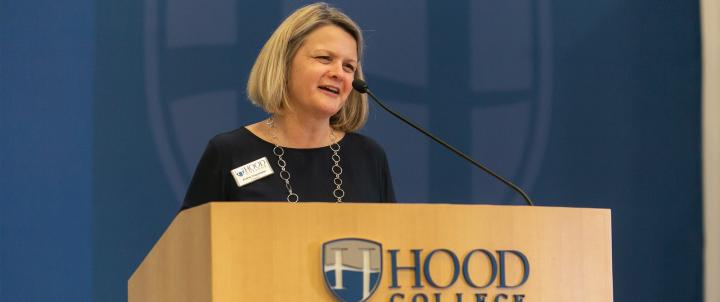 "My parents were ardent believers in the American dream and, for them, the pathway to that dream was education."
The leadership of Hood College, whether it be the Board of Trustees, Board of Associates or senior team, shares the president's commitment to our students and their success. 
President Chapdelaine, a teacher and an administrator, became Hood College's 11th president on July 1, 2015.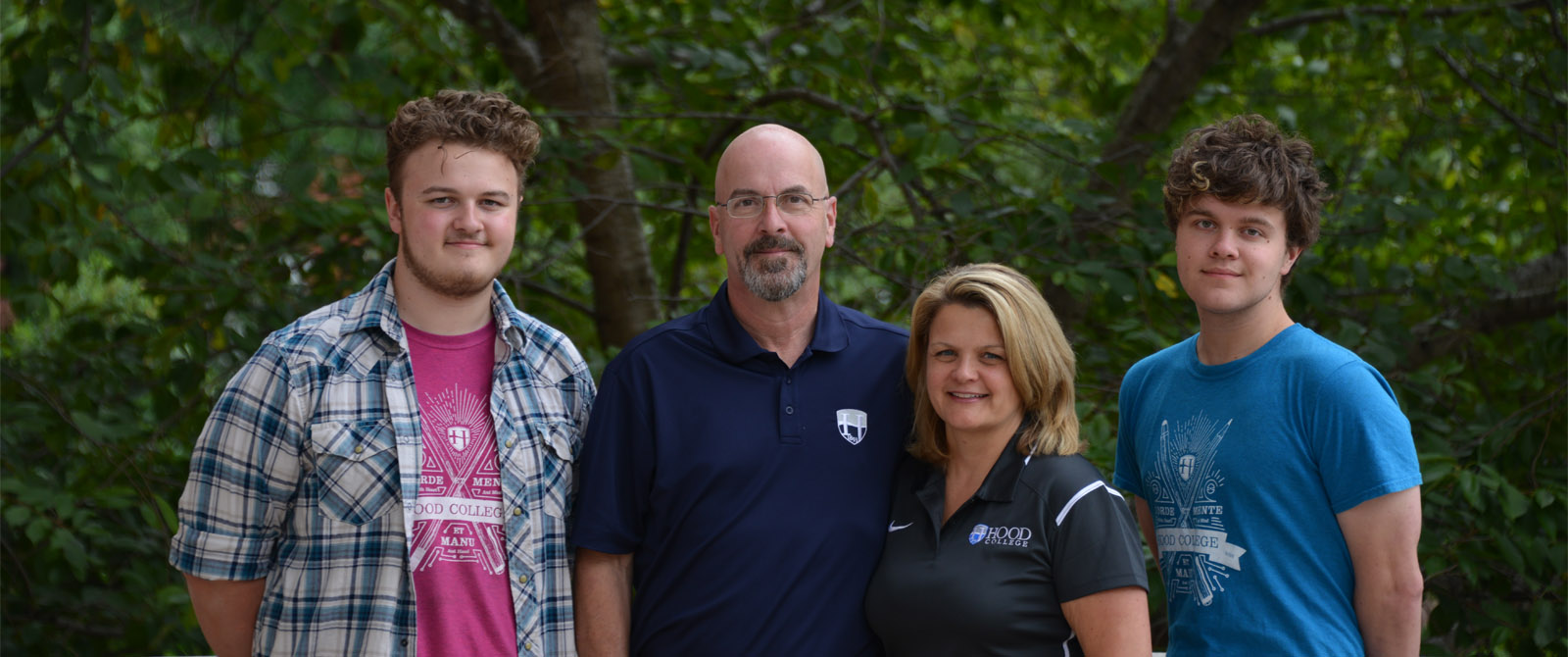 President Chapdelaine and her husband, David Tetreault, with sons, Daniel (right) and Benjamin.
Andrea E. Chapdelaine, a lifelong teacher and scholar, became Hood College's 11th president July 1, 2015. She was formally inaugurated on Oct. 17, 2015.
President Chapdelaine has nearly 30 years of higher education experience. 
Under her leadership at Hood, President Chapdelaine has guided the College community—trustees, faculty, staff, students, alumni and friends—through two inclusive strategic planning processes. Moving Together Beyond Boundaries: 2017-2022, strengthened academic programs, expanded students' experiential learning opportunities, established extensive regional partnerships, improved compensation and professional support for faculty and staff, established a culture of data-drive decision making and launched the College's successful Forging the Future campaign. For a Greater Hood, 2022-2025 will prioritize diversity, equity and inclusion efforts, launch The Ruth Whitaker Holmes School of Behavioral and Health Sciences and the Biomedical Research and Training Center, and expand Hood's marketing and recruitment footprint. The College was reaccredited with commendations with Middle States Commission on Higher Education in 2017.
President Chapdelaine has secured support for a full-tuition scholarship program to attract and retain top academic students. Under her leadership, the Graduate School developed Frederick's first doctoral program, two new master's degrees in bioinformatics and cybersecurity, two fully online programs in information technology, and a masters in nutrition science. New undergraduate programs include art therapy, finance, public health, and sustainability. With the two other higher education institutions in Frederick, Hood created a degree pipeline from associate to bachelor's to master's in cybersecurity.
Building upon the strength of Hood's community, President Chapdelaine established the Division of Community and Inclusivity, the mission of which is to foster a sense of belonging and well-being in students, staff, and faculty and to advance diversity and equity efforts. To facilitate participation in decision making, President Chapdelaine established a staff council and worked with trustees and faculty to strengthen shared governance.
Through her focus on community partnerships, she has significantly expanded Hood's reach and experiential learning opportunities for students. She led the establishment of the Martha Church Center for Civic Engagement at Root, the Frederick County Center for Innovation and Economic Development. She secured a MOU between Hood and the Frederick National Laboratory for Cancer Research to expand research and training opportunities for undergraduate and graduate students, and provide professional development programs for Hood faculty and national laboratory staff; and an MOU with Fort Detrick to provide graduate scholarships for active duty military stationed at the Frederick army base. In 2019, she partnered with Frederick Health to provide health services for students and launched the NeighborHOOD partner program that offers tuition discounts to partners' employees and their dependents. In 2021, the Graduate School partnered with the Frederick County Chamber of Commerce to co-direct their Leadership Frederick Program.
President Chapdelaine gives back to both the Frederick and higher education communities. She served as chair of the Board of Directors of the Chamber of Commerce; and is a member of the Frederick Rotary, the Good Samaritan Club at Frederick Health, Heritage Frederick and Friends of Baker Park. She has supported many community service initiatives through the College and as a member of Rotary (e.g, United Way, The Hurwitz Breast Cancer Fund, Women to Women Mentoring, among others). 
In her professional role, she currently serves as a board member of the American Association of Colleges and Universities, Council of Independent Colleges, and the National Association of Independent Colleges and Universities. In 2019 President Chapdelaine was appointed by governor Hogan to serve on the government workforce review board. She served as chair of the Maryland Independent Colleges and Universities Association and the Middle Atlantic Athletic Conference.
In 2019, President Chapdelaine was named to Frederick's Top 50 CEO List by the Frederick County Office of Economic Development and as one of The Daily Record's 2019 Top 100 Women in Maryland. In 2022, Hood was named "Most Valuable Partner" by the Frederick County of Economic Development.
She began her teaching career at Wabash College in Crawfordsville, Indiana, from 1993 to 1995 and then taught at Trinity College in Hartford, Conn., from 1995 to 1998. She joined Albright in 1998, where she was a psychology faculty member and also served as dean of undergraduate studies before serving as the provost from 2006-2015. Her most recent scholarly work has focused on supporting faculty through policies designed to promote flexibility and work-life balance, the value of undergraduate research to student learning and ethical issues in service learning. In addition to her presidency, she is also a tenured faculty member in the psychology department. 
Originally from Chicopee, Massachusetts, President Chapdelaine, a proud first-generation student, earned doctoral and master's degrees in social psychology from the University of Connecticut. She earned her bachelor's degree in psychology and a minor in justice studies at the University of New Hampshire.
Scholarship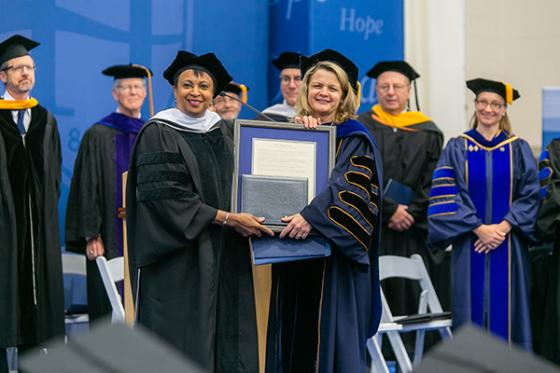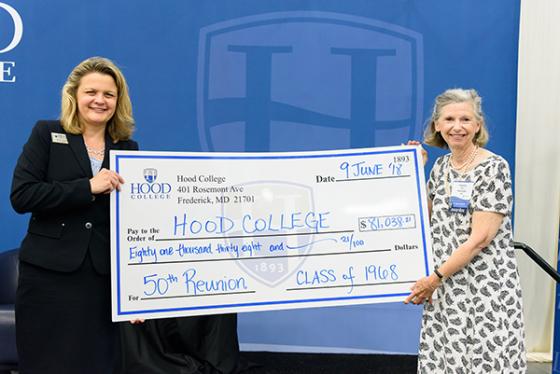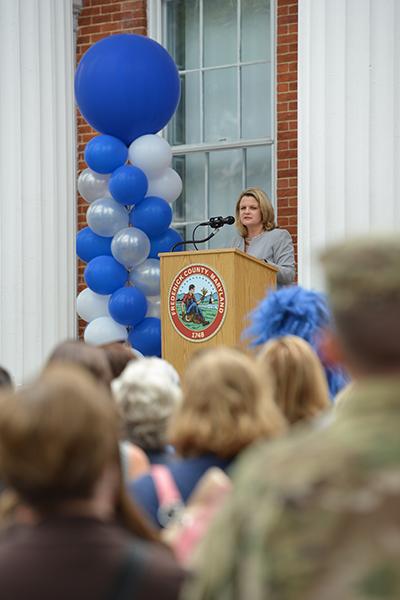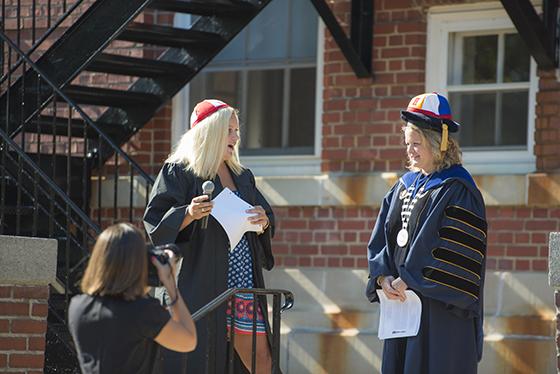 Are you ready to say Hello?
Choose a Pathway
Information will vary based on program level. Select a path to find the information you're looking for!