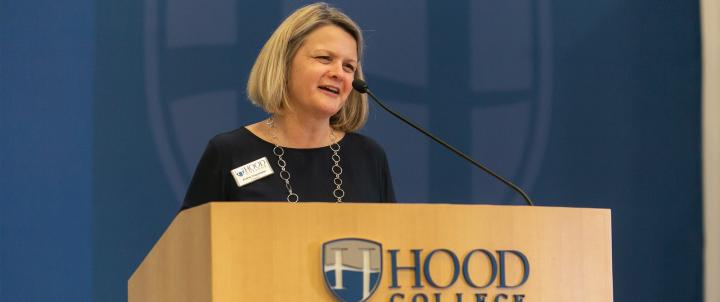 "My parents were ardent believers in the American dream and, for them, the pathway to that dream was education."
The leadership of Hood College, whether it be the Board of Trustees, Board of Associates or senior team, shares the president's commitment to our students and their success. 
President Chapdelaine, a teacher and an administrator, became Hood College's 11th president on July 1, 2015.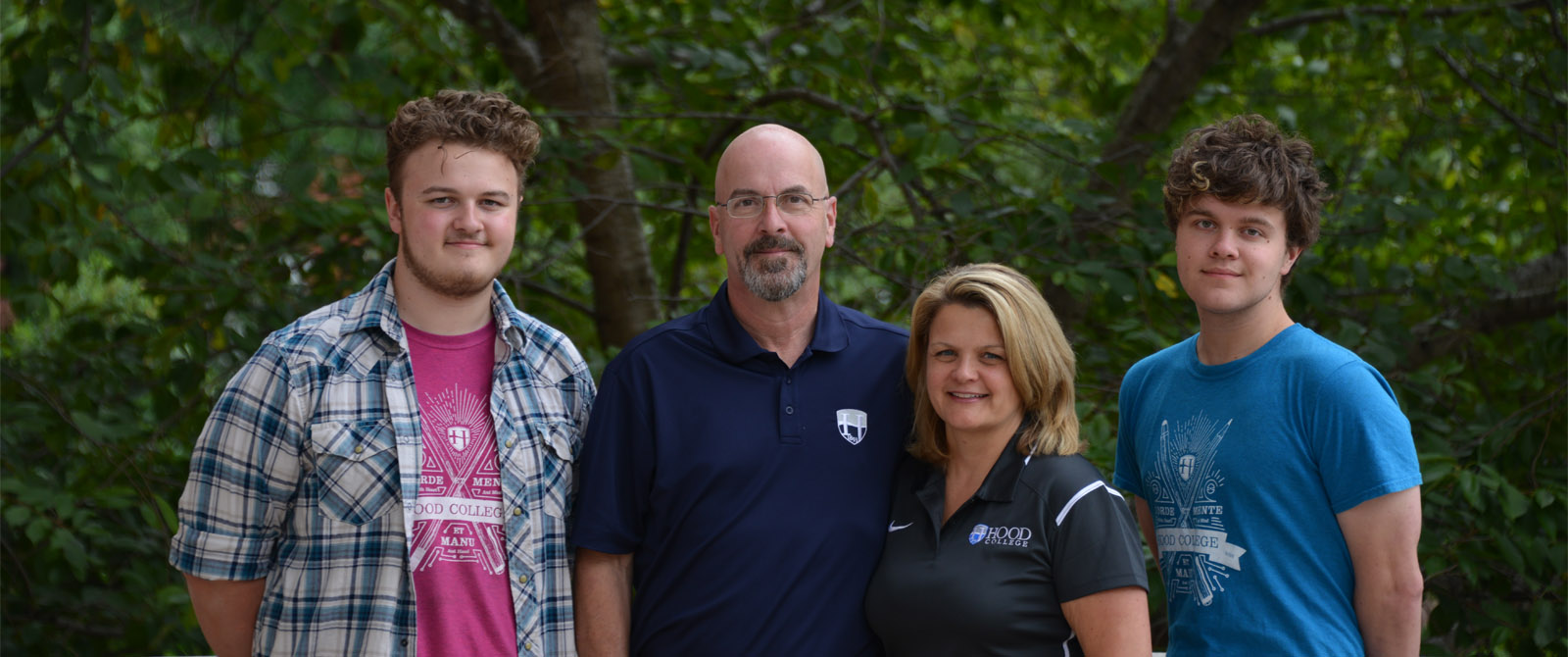 President Chapdelaine and her husband, David Tetreault, with sons, Daniel (right) and Benjamin.
Biography
Andrea E. Chapdelaine, a lifelong teacher and scholar, became Hood College's 11th president July 1, 2015. She was formally inaugurated on Oct. 17, 2015.
President Chapdelaine has nearly 30 years of higher education experience. 
Under her leadership at Hood, President Chapdelaine has guided the College community—trustees, faculty, staff, students, alumni and friends—through two inclusive strategic planning processes. Moving Together Beyond Boundaries: 2017-2022, strengthened academic programs, expanded students' experiential learning opportunities, established extensive regional partnerships, improved compensation and professional support for faculty and staff, established a culture of data-driven decision making and launched the College's successful Forging the Future  campaign. For a Greater Hood, 2022-2025 will prioritize diversity, equity and inclusion efforts, launch The Ruth Whitaker Holmes School of Behavioral and Health Sciences and the Biomedical Research and Training Center, and expand Hood's marketing and recruitment footprint. The College was reaccredited with commendations with Middle States Commission on Higher Education in 2017.
President Chapdelaine has secured support for a full-tuition scholarship program to attract and retain top academic students. Under her leadership, the Graduate School developed Frederick's first doctoral program, two new master's degrees in bioinformatics and cybersecurity, two fully online programs in information technology, and a masters in nutrition science. New undergraduate programs include art therapy, finance, public health, and sustainability. With the two other higher education institutions in Frederick, Hood created a degree pipeline from associate to bachelor's to master's in cybersecurity.
Building upon the strength of Hood's community, President Chapdelaine established the Division of Community and Inclusivity, the mission of which is to foster a sense of belonging and well-being in students, staff, and faculty and to advance diversity and equity efforts. To facilitate participation in decision making, President Chapdelaine established a staff council and worked with trustees and faculty to strengthen shared governance.
Through her focus on community partnerships, she has significantly expanded Hood's reach and experiential learning opportunities for students. She led the establishment of the Martha Church Center for Civic Engagement at Root, the Frederick County Center for Innovation and Economic Development. She secured an MOU between Hood and the Frederick National Laboratory for Cancer Research to expand research and training opportunities for undergraduate and graduate students, and provide professional development programs for Hood faculty and national laboratory staff; and an MOU with Fort Detrick to provide graduate scholarships for active-duty military stationed at the Frederick army base. In 2019, she partnered with Frederick Health to provide health services for students and launched the NeighborHOOD partner program that offers tuition discounts to partners' employees and their dependents. In 2021, the Graduate School partnered with the Frederick County Chamber of Commerce to co-direct their Leadership Frederick Program.
President Chapdelaine gives back to both the Frederick and higher education communities. She served as chair of the Board of Directors of the Chamber of Commerce; and is a member of the Frederick Rotary, the Good Samaritan Club at Frederick Health, Heritage Frederick and Friends of Baker Park. She has supported many community service initiatives through the College and as a member of Rotary (e.g, United Way, The Hurwitz Breast Cancer Fund, Women to Women Mentoring, among others). 
In her professional role, she currently serves as a board member of the American Association of Colleges and Universities, Council of Independent Colleges, and the National Association of Independent Colleges and Universities. In 2019 President Chapdelaine was appointed by Governor Hogan to serve on the government workforce review board. She served as chair of the Maryland Independent Colleges and Universities Association and the Middle Atlantic Athletic Conference.
In 2019, President Chapdelaine was named to Frederick's Top 50 CEO List by the Frederick County Office of Economic Development and as one of The Daily Record's 2019 Top 100 Women in Maryland. In 2022, Hood was named "Most Valuable Partner" by the Frederick County of Economic Development.
She began her teaching career at Wabash College in Crawfordsville, Indiana, from 1993 to 1995 and then taught at Trinity College in Hartford, Conn., from 1995 to 1998. She joined Albright in 1998, where she was a psychology faculty member and also served as dean of undergraduate studies before serving as the provost from 2006-2015. Her most recent scholarly work has focused on supporting faculty through policies designed to promote flexibility and work-life balance, the value of undergraduate research to student learning and ethical issues in service learning. In addition to her presidency, she is also a tenured faculty member in the psychology department. 
Originally from Chicopee, Massachusetts, President Chapdelaine, a proud first-generation student, earned doctoral and master's degrees in social psychology from the University of Connecticut. She earned her bachelor's degree in psychology and a minor in justice studies at the University of New Hampshire.
Scholarship
Hood College's president communicates regularly with the community through a variety of formal and informal channels, including:
Staff Council meetings and/or Staff Council rep at senior team meetings

Faculty meetings and/or FEC rep at senior team meetings

Emails to the Hood Community

Hood Magazine

Office Hours

Fall and spring forums

State of the College meetings
Comments and suggestions are always welcomed at president@hood.edu and will inform the work of the president and the senior team.  
The president often receives requests to speak on certain issues. Her voice on topics is powerful and we do not take such messages lightly. However, the overuse of presidential messages can lead to expectations that she should always respond to issues and events. Such frequent presidential messaging may undermine the regard and importance of a president's message in times when it is especially needed or de-emphasize the importance of other voices in the community.
The following are examples of some, but not all, the situations that may merit a statement directly from the president: 
Crisis situations directly affecting the College's campuses and/or our people (faculty/student/staff). Hood's campus-wide crisis communications protocol during emergency situations on campus, including a serious crime, a health-related outbreak or a major disruption to operations. RAVE Alerts are typically the first communication, with a follow-up message from the president or the vice president who oversees the area most closely connected to the situation (dean, director of wellness or director of campus safety) to provide a broader update and share additional key information and available resources. A decision as to when and how to send messages or statements from the president is advised through the emergency management/crisis incident response structure.

Matters where significant national or world events have occurred (i.e., the events of January 6; the death of George Floyd).

Matters that occur on a college campus or within our region (i.e., the Charlottesville attack near the University of Virginia; the Congressional baseball shooting)

A tragedy that involves direct impact to individuals or groups in the College community. Consideration should always be given to whether other College administrators can and should serve as primary messengers. This applies especially when a situation involves a specific audience in the College community and the area vice president or dean is the most informed source of information. For example, in situations related to the academic enterprise/faculty, the vice president for academic affairs likely will serve as messenger. On matters specific to the student body, the vice president for student affairs or a dean of students may serve as messenger. It is expected that administrators, senior leaders in particular, will share plans and draft communications prior to messages being sent to broad constituencies (i.e. College community, students, faculty, parents, etc.).
In any situation when members of our community may be anxious or affected, our expectation is that the dean of the Graduate School or the dean of students will reach out directly to students to make sure that they have the support they need; we expect the same response from human resources when faculty and staff members are directly affected.
Student Media
The president is committed to supporting the preparation of students as future journalists. The Blue & Grey is an important voice on campus and the president will be available to discuss important matters or situations (i.e., strategic planning, broad presidential priorities, news features pertaining to presidential leadership, major initiatives and decisions, etc.). However, to provide the most helpful and timely information, in many cases the president will refer a question to another member of senior team or campus leader most closely associated with the topic.
To best determine whether the president should comment or is available to comment, or if a reporter is unsure whom the best contact may be, the reporter should contact the Office of Marketing and Communications (Mason Cavalier, cavelier@hood.edu) to assist in quickly finding the best source for information.
Unless necessary due to a quick deadline, rapidly unfolding situations or the inability of the reporter to reach the correct contact, the Office of Marketing and Communications' goal is to connect media with the best campus source of information whenever possible, rather than issue a statement or respond through the spokesperson. 
When Other Voices Are More Appropriate
It is important for other leaders throughout campus to be represented when a supportive, caring or unifying voice is necessary. Following are examples of situations or circumstances when the president may defer to another member of senor team:
When a preliminary message is needed in advance of an important presidential communication

Day-to-day media requests that are more appropriate for subject or topic experts or departmental leaders

Reporters should contact the campus expert most closely associated with the story topic; if they are unsure whom the contact should be or need an immediate response, the Office of Marketing and Communications can assist.
When No Voice Is More Appropriate
In times when no response is given, the vice president for marketing and communications will deliver the "no comment" message. Some situations may include:
When a member of the community (student, faculty, staff or alumnus) is involved in a national incident or suspected of wrongdoing; Hood will respect due process and the privacy of individuals involved. 

When a member of the community faces disciplinary action, Hood will not comment during an ongoing investigation or on the resulting action.

When we are required to protect privacy due to federal or local laws.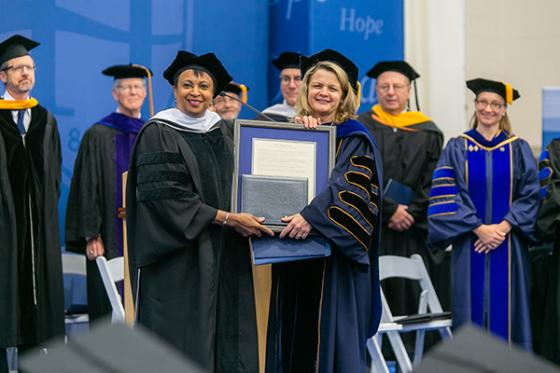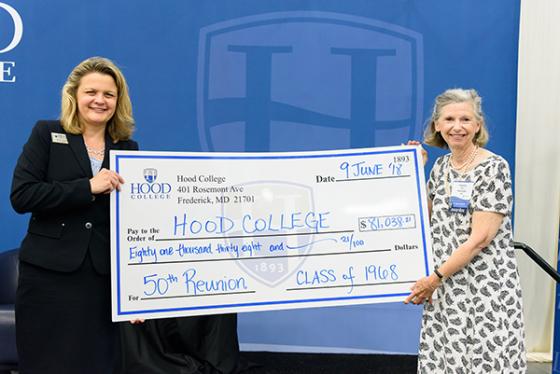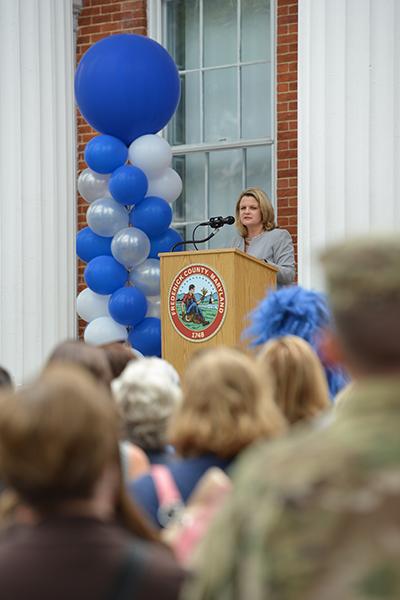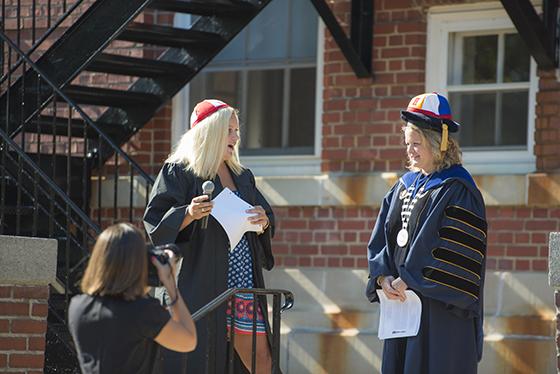 Are you ready to say Hello?
Choose a Pathway
Information will vary based on program level. Select a path to find the information you're looking for!