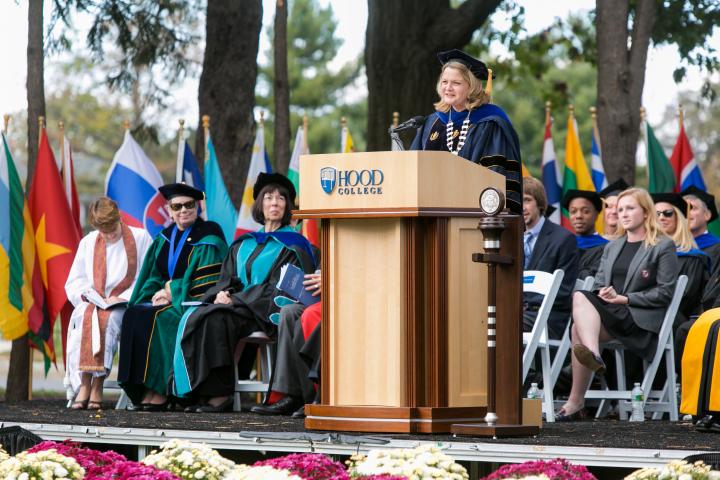 About Andrea E. Chapdelaine, Ph.D.
Andrea E. Chapdelaine, a lifelong teacher and scholar, became Hood College's 11th president July 1, 2015. She was formally inaugurated on Oct. 17, 2015.
President Chapdelaine has more than 25 years of higher education experience. 
Under her leadership at Hood, President Chapdelaine has guided the College community—faculty, staff, students, alumni and friends—through an inclusive strategic plan process. Moving Together Beyond Boundaries: 2017-2022, formally adopted by the Board of Trustees in 2017, is strengthening the College's academic programs, expanding students' experiential learning opportunities, and improving diversity of the faculty and staff.
President Chapdelaine has secured support for a scholarship program to attract and retain top academic students. Under her leadership, the Graduate School developed Frederick's first doctoral program and two new master's degrees in bioinformatics and cybersecurity and two fully online programs. With her colleagues in higher education in Frederick, Hood has partnered to create a degree pipeline from associate to bachelor's to master's in cybersecurity.
She established a staff council to facilitate employee participation in decision making and cross-campus collaboration and a strategic initiative group to provide oversight of mission and strategy to provide a forum for the innovative exchange of ideas. The College also successfully completed its accreditation with commendations with Middle States Commission on Higher Education in 2017.
Through her focus on community partnerships, she has significantly expanded Hood's reach and applied learning opportunities for students to ensure they are career ready. For example, she led the establishment of the Martha Church Center for Civic Engagement at Root, the Frederick County Center for Innovation and Economic Development. She also recently secured a MOU between Hood and the Frederick National Laboratory for Cancer Research to expand research and training opportunities for undergraduate and graduate students, and provide professional development programs for Hood faculty and national laboratory staff; and an MOU with Fort Detrick to provide graduate scholarships for active duty military stationed at the Frederick army base. In 2019, she launched the NeighborHOOD partner program that offers tuition discounts to employees and their dependents. The first MOU was signed with the Frederick County Public School system. Future patterns will include city and county government, and United Way non-profit partners.
President Chapdelaine gives back to both the Frederick and higher education community in several ways. Currently, she serves as chair and the Chamber of Commerce; and is a member of the Frederick Rotary, the Good Samaritan Club at Frederick Memorial Hospital, Heritage Frederick and Friends of Baker Park. She has supported many community service initiatives through the College and as a member of Rotary (e.g, United Way, The Hurwitz Breast Cancer Fund, Women to Women Mentoring, Frederick County Public Schools, among others). 
In her professional role, she serves as chair of the Maryland Independent Colleges and Universities Association, the chair of the Middle Atlantic Athletic Conference. In her first year as president of Hood, Dr. Chapdelaine was appointed by Governor Hogan to serve on the MD P20 council on education policy. She also has served as the keynote for many local organizations, and in 2019 was appointed by governor Hogan to serve on the government workforce review board.
In 2019, President Chapdelaine was named to Frederick's Top 50 CEO List by the Frederick County Office of Economic Development and as one of The Daily Record's 2019 Top 100 Women in Maryland.
As provost at Albright, President Chapdelaine oversaw the academic affairs division and played a leadership role in strategic planning and assessment, the College's fundraising campaign and a number of facility projects. In collaboration with the faculty, she initiated new academic programs and a comprehensive revision of the general education curriculum. She is a member of the Council on Undergraduate Research, has presented at professional development workshops for academic administrators and served on a local board to improve early childhood literacy.
She began her teaching career at Wabash College in Crawfordsville, Indiana, from 1993 to 1995. She also taught at Trinity College in Hartford, Conn., from 1995 to 1998. She joined Albright in 1998, where she was a psychology faculty member and also served as dean of undergraduate studies. Her most recent scholarly work has focused on supporting faculty through policies designed to promote flexibility and work-life balance, the value of undergraduate research to student learning and ethical issues in service learning. In addition to her presidency, she is also a tenured faculty member in the psychology department. 
Originally from Chicopee, Massachusetts, President Chapdelaine earned a doctorial and master's degrees in social psychology from the University of Connecticut. She graduated cum laude from the University of New Hampshire with a bachelor's degree in psychology and a minor in justice studies.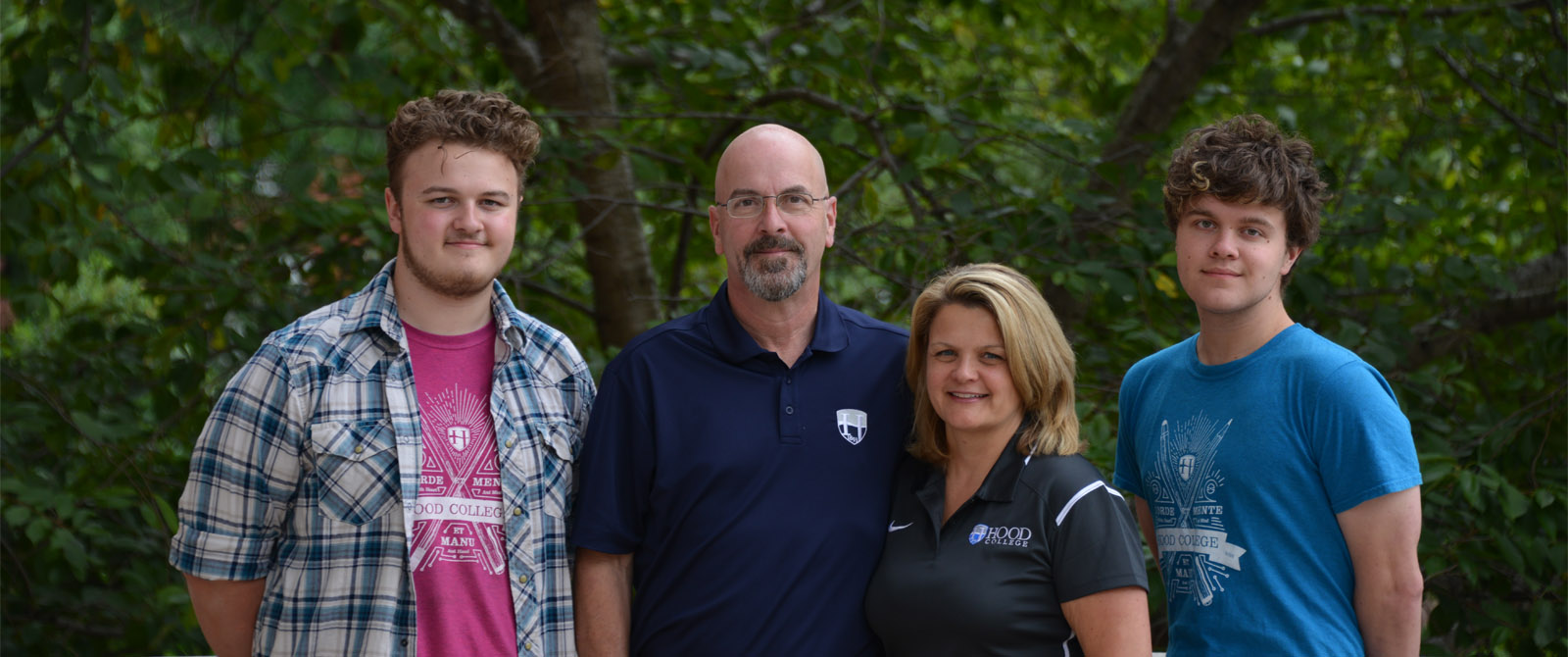 President Chapdelaine and her husband, David Tetreault, have two sons, Daniel (right) and Benjamin, a dog, Nika and a cat, Midas.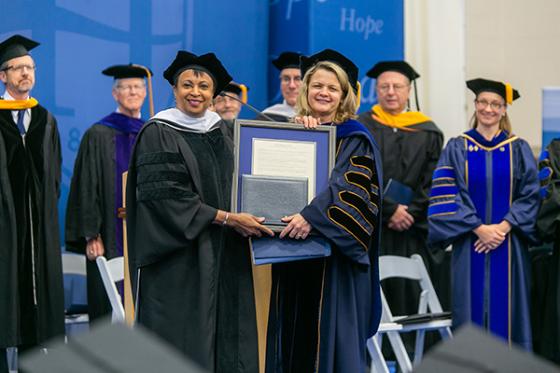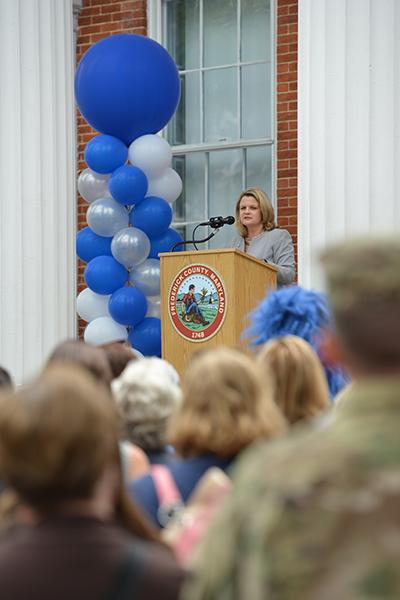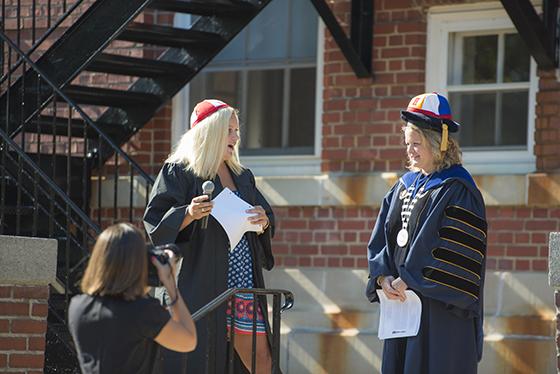 Are you ready to say Hello?
Choose a Pathway
Information will vary based on program level. Select a path to find the information you're looking for!